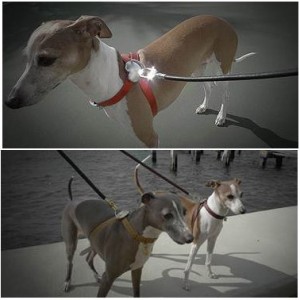 DALLAS, Aug 17, 2010 / FW/ — Contrary to popular belief, our dogs and cats know and care about their collars!
Between my Welsh Corgi and Jack Russell Terrier, as a pet owner I have observed those two having "this is mine" moment.
My conclusion might not be based on scientific data, yet I know that when I take off the collars of my dogs before I give them baths, they check out where I lay their collars.
When it is time to put them back, they instinctively go for the collar which they wear all the time.
That said, it is good to know that Vonderbitch cares enough for our four-legged friends to launch a line of luxury accessories for dogs, cats and for pet owners like me who likes to dote on them.
A perfect gift for the pet owner who loves to lavish their best friend with the finer things in life, Vonderbitch accessories are a mix and match system of belts, buckles, collars, handles and leads – you can choose from a variety of fashion colors and variations of leather.
Belts can be used as collar, harness, double wrap bracelets or simply belts.
Buckles are functional pieces of jewelry where a Leash attaches to a Collar or a Harness or a Belt.
Wear the Cuff on your wrist as a bracelet, attach to a leash, or use as collar for cats or miniature dogs and comes with a removable Vonderbitch Icon Charm in gold or silver.
Match your Handle to the Belts or to a Leash or to your outfit
Leads have a clasp at each end to let you use them folded in half (for taller dogs), hooked on a Handle or on a cuff.
[MARI DAVIS]