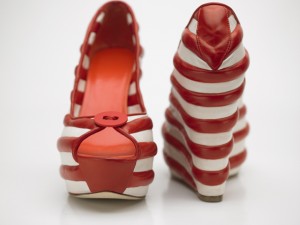 MILAN, Aug 4, 2010 / FW/ — With the second creative call of What's More Alive Than You (WMATY) closing last June 18th, the pre-selection of finalists is already underway.
In the meanwhile the presentation of the first collection, realized following the creative call of May 2009, continues as preview at institutional website www.WMATY.com
CLAUDIA CIVILLERI
Palermo, Italy
b. January 31, 1986
My training clearly expresses the two fundamental sides of my professional character – a degree in Industrial Design at the University of Palermo and graduation in Design of Shoes and Accessories at the European Istitute of Design (IED), Barcelona. I always try to combine artistic creativity with industrial rationality. I like to merge forms and contaminate fashion with other forms of art.
THIS IS MY ARTWORK – UP SHOES
Claudia Civilleri's UP SHOES is a very interesting project. The original idea involved the creation of models with polyurethane mould but a different process was used in productio to ensure a higher quality of the finished product in terms of ergonomics and stability.
To copy the swelling obtained with the plastic materials, an embroidery machine of the seventies has been found again in a basement, a machine able to sew the strips of two-tone leather, with no visible seams and at the same time, entering expanded material into one of the two colors, creating bulges.
The shoe does not have separate upper and lining, but it is a unique piece. Also outside these are one piece, seamless and blocked just in front. In this way the product is very light and, despite the height of 105mm, the walk is not compromised at all.
A soft, comfortable and elegant object, but at the same time funny and ironic also able to mix style with industrial technology, simplicity of materials with the construction complexity.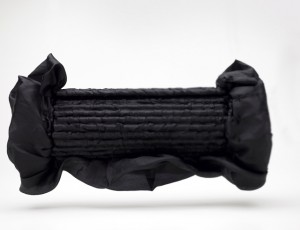 PREMRUDEE LEEHACHAROENKUL
Bangkok, Thailand
b. October 6, 1982
Thai student with a product design background but with the passion for accessories.
I'm currently working on a shoes project for my thesis in Milan, Italy. In my opinion, shoes are pieces of art – they are not only functional, but also inspiring. My design is focused on creativity, experimentation and innovation. I'm fond of mixing different materials and I mixed and matched different kinds of materials and explored my ideas for shoes and bags.
THIS IS MY ARTWORK – TEMPORARY NIGHT
The reflections of the moon, night lights and the shadows inspired Premrudee's artwork; we present this author for the second time with a clutch bag. A rigid tubular form, enriched by wiggly puffs makes TEMPORARY NIGHT timeless.
The central form of this lightweight clutch (only 150 gr) is a cylinder with an opening at the top.
A single panel, whose structure is formed by 32 thin tubes Alutex, an aluminized fiberglass fabric product with excellent technical and aesthetic qualities, particularly used in the design and furnishing. The tubes are bond with a particular embroidery and lined with black silk embroidered with tubes and curled at the tips.
The panel is then rolled around two discs, left open with the top opening. A structure elegant and at the same time extremely resistant to hits, temperature and weather.
Style and materials merged together for a fashion-tech artwork.