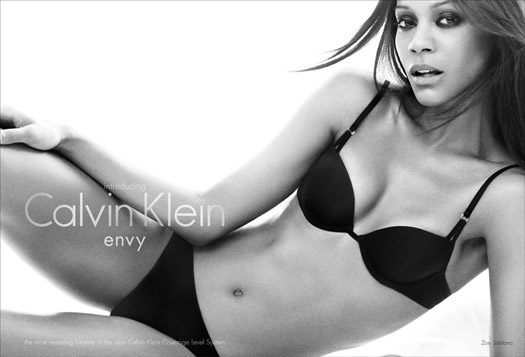 NEW YORK, Aug 27, 2010 / — Unveiling its Fall 2010 global advertising campaign yesterday, Calvin Klein Underwear uncovered actress Zoe Saldana, the face of the brand, at www.nothingtohide.com ..
Beginning yesterday, three unique versions – all featuring acclaimed actress Zoe Saldana — became available on-line at the brand's dedicated microsite, www.nothingtohide.com , as well as on the official Calvin Klein Underwear website, www.cku.com .
Ms. Saldana stars in the campaign and was involved in the development of the scripts for the different mini-films. Each of the three spots feature Ms. Saldana in very conversational moments as she uncovers, reveals and shares little known details about herself.
The new Calvin Klein Underwear commercials will also be seen on cable television in the U.S. in advance of this weekend's 62nd Primetime Emmy® Awards.
The :30 second spots will air exclusively over the course of E! Network's two days of Primetime Emmy® Awards programming and will break on television during the "Countdown to the Red Carpet," airing between 5:00 – 6:00 PM EST on Sunday, August 29th. The spots will continue to air throughout the evening and into the following day.
The commercials will also air on television and in cinema globally in select markets throughout Europe and Asia in September.
As previously announced, the imagery for the global print and video campaign was shot by fashion photographer Mikael Jansson. The print ads will break globally in key October 2010 magazines in the U.S., Europe, Japan, and Asia.
Strategic digital and outdoor advertising will also be featured on impactful sites beginning in September and in select locations around the world.
The campaign debuts Calvin Klein Underwear's Envy range, the latest collection from Calvin Klein Underwear. Calvin Klein Underwear Envy is a new line of lingerie designed to create a more revealing silhouette.
The introduction of Calvin Klein Underwear Envy completes Calvin Klein Underwear's Coverage Level System, a revolutionary new shopping system for bras, designed to help women find the perfect fit. Calvin Klein Underwear bras are now identified by three distinct levels of coverage, with each level differentiated by cup coverage, as well as strap and band width.
Envy is Coverage Level 1, with the most minimal level of coverage for a sleek, sexy look. Perfectly Fit is Coverage Level 2 and provides mid-level coverage for classic comfort. Seductive Comfort, positioned at Coverage Level 3, offers the most coverage and support.
Photo by © 2010 Mikael Jansson
Videos can be viewed at www.nothingtohide.com / www.cku.com