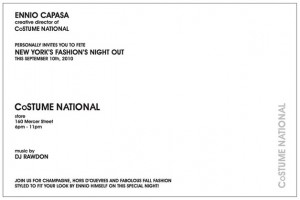 NEW YORK, Sep 5, 2010 / — If you're enjoying your long weekend, leave some room for more fun for Friday's Fashion's Night Out.
CoSTUME NATIONAL
CoSTUME NATIONAL creative director ENNIO CAPASA will make a personal appearance at the Costume National at Mercer Street.
Join Ennio Capasa for champagne, hors d'oeuvres and fabulous fall fashion styled to fit your look by Ennio himself on this special night
CoSTUME NATIONAL
160 Mercer Street
New York, NY
6:00 PM – 11:00 PM
CBS Live Stream of FNO: The Show
Great news! On September 7th, CBS.com will webcast live Fashion's Night Out: The Show! With supermodels Gisele, Naomi, Adriana on the catwalk and Andre Leon Talley as host, it is the most fashionable night of the year with 150 looks to be unveiled.
The player below will become active on Tuesday, September 7 at 5pm ET/ 2pm PT. From 5-7pm teaser clips from CBS Special on Fashion's Night Out will run. Show begins at 7pm.