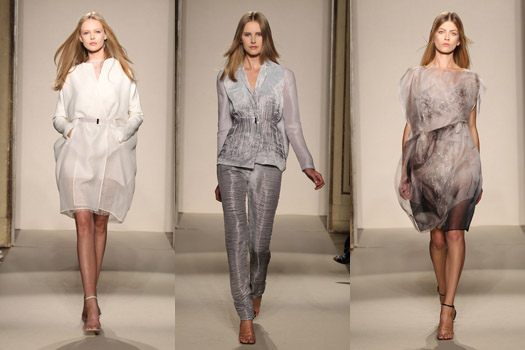 MILAN, Sep 25, 2010 / — The extreme variety of Wolfgang Tillmans' works, as hybrid result between painting and photography, inspired Gabriele Colangelo for his Spring Summer Collection 2011.
Images look more abstract now, but the ability to make connections between the details of our lives, to give them a physical touch, and emotional presence, is something that still persists.
Expressing the same belief, the Spring Summer Collection 2011 interprets Tillmans' aesthetics by producing new motions and lightness.
The sole yarn and its inimitability characterize the fundamentals to shape new textures.
It generates surfaces of silk, crossed by soft wires which capture floating frames to merge them into a unique fibre.
Cotton is converted into silky texture, changing in colour and weight. It produces structured dresses which fade away into flowing and sinuous figures. Fine gauzes weaved with copper wrinkle in new ways.
Gazar and organza change their inner structures to assume modern roundness. Translucent nylon produces irregular frames, floating on air. Paintings replicate elegant gouaches in vibrant colours, together with transparent petals of nasturtium.
Chromatic scale favours the pure white, and ethereal transparencies of clouds. A shade of dusty pink now turns into anthracite grey, now takes the fuchsia intensity.
Moves appear in circular cuts, crossed by microstructures in ultra-light copper to sculpt the body as touched by the wind.
Hems levitate. The surface moves and gets twisted into new draperies, to become "uncomplicated". Dresses are thinning into imaginative wings, moved by air.
Embroideries on silk gauze create dégradé chiffon to be smashed to minute pieces, and shining of micro-beads.
Furs embrace new forms and combinations. It comes together with white cotton poplin of men's shirt; or it turns out to be an ultra-light cache-coeur with revers moved by imperceptible metallic constructions.
Gianvito Rossi realized the shoes, in suede and PVC: sandals suspended on a chrome stiletto.
Milano Moda Donna Spring 2011