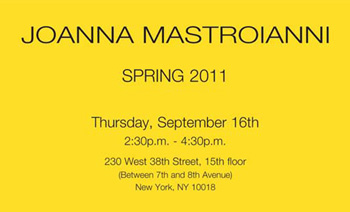 NEW YORK, Sep 6, 2010 / — Fresh from having not one, but three! dresses featured in "Sex and the City 2," Joanna Mastroianni keeps the momentum going with her Spring/Summer 2011 collection presented at the designer's Midtown Manhattan atelier September 16, 2010.
Never one to interpret inspirations loosely, whether the Moroccan tiles or Byzantine crosses of past collections, Mastroianni delves into her latest muse-as-motif, Clarice Cliff, an English potter whose career spanned most of the 20th century.
Ideally suited for fashion, the artist's cheerful patterns in vibrant colors with bold outlines are translated by Mastroianni into modern, architectural silhouettes with three-dimensional texture.
The simplicity of the then ground-breaking geometrics and abstracts, in addition to childlike landscapes and florals, that made Cliff's tableware a collectible sensation seamlessly carries over into chic, understandable clothes and accessories.
The pottery's collage effect works well with Mastroianni's signature, mixed-media treatments combining embroidery, patent leather and more.
Based on a palette of tangerine, chartreuse and jade green grounded in black, the collection also offers a more versatile group in black and white. There are also sculpted shapes referencing the Sixties to satisfy our current fascination with midcentury modern aesthetics escalated by "Mad Men."
Standalone accessories such as capes, handbags and belts expand into jewelry this season. The small collection's bold styles with loads of color, stones and pearls pay homage to rock and roll.
Joanna Mastroianni Spring 2011 Presentation
Thursday, Sep 16, 2010 at 2:30PM – 4:30 PM
230 W. 38th Street (15th Floor)
New York, NY
BY APPOINTMENT ONLY