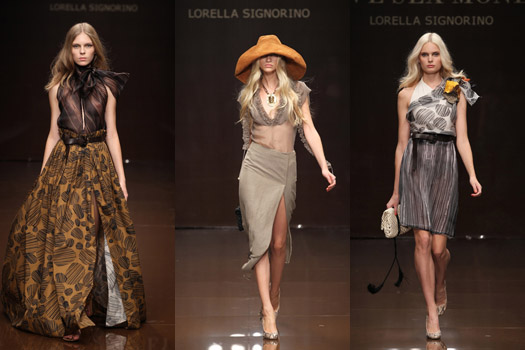 MILAN, Sep 24, 2010 / — The starting point is the American "ultra look" of the late 70s. The outcome is Lorella Signorino's new long look built around straight, long lines that dress yet reveal the silhouette.
With a touch of Kandinsky art, the new, extremely simple absolute superlative.
The divided skirt – Wide, flowing and below the ankle: matched with a fluid cardigan, top and waistcoat to form a monochrome look.
The dress with a view – Long, in translucent knitted fabric that gives a glimpse of the body around which it drapes.
Bodyssimo – Asymmetric slashes reveal the body under the one-shoulder satin dresses.
Hyper slits even to the waist on the slips that reveal the body and seamless short. Maxi skirts. Poplin, with maxi prints.
Tribute to Kandinsky in the yellow-blue, red and black abstract motifs in watercolours. Pollock-like über-dripping.
Bar rocks: elongated bar codes embroidered in rows of black and gold sequins. Black and white parallel lines printed in the shape of a rock or picked out in golden thread and glass tube beads.
On tone, one tone: single colours. Cream, dun, tobacco. Blasts of yellow. Linen tweed/Lurex. Silk crêpe and linen. Lots of organza, including plissé versions. Crepon. Taffeta. Fil coupé with gold cells. Satin.
Matting bag covered with punched fur. Flip-flops for a less formal look with long skirts. Wood and metal for necklaces and bracelets.
Milano Moda Donna Spring 2011