This week, men's Paris Fashion Week kicked off its men's Fall/Winter 2019 season. Below, we're highlighting details from some recent shows.
Issey Miyake presented an array of looks dedicated to wind and speed. On a simple polished concrete runway, the house showed new pieces in solid colors, color-blocked arrangements, and graphic-forward patterns of colors in red, yellow, orange, purple, pink, green, black, white, and grey. Each piece was made from a specific technique, with the wind motif making up 17 looks through batik, fringe, jacquard, and transcription, and the speed motif comprised of seven looks made by ikat and tweed.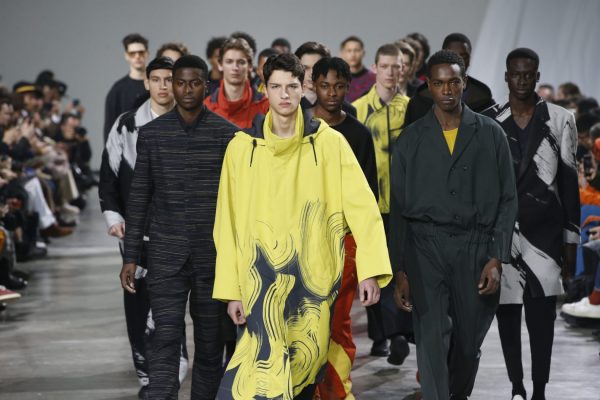 Sharp yellow graphics were seen seemingly cutting through the wind, presented in linen lyocell fabric; fringe made up three looks with a linear pattern that evokes wind in a storm, shown on triple-shrunk wool; jacquard made up seven looks of an abstract image of tailwind; and tweed showed two pieces of line patterns, re-imagining the remnants of light. While staying true to its focus on how the garment is made, and projecting that process, Issey Miyake's new collection presents a fresh take on jackets with new pockets, shoes with new construction and colors, and new favorites like cinched jumpsuits, long rain jackets, car-length blazers, and multi-zip belt bags.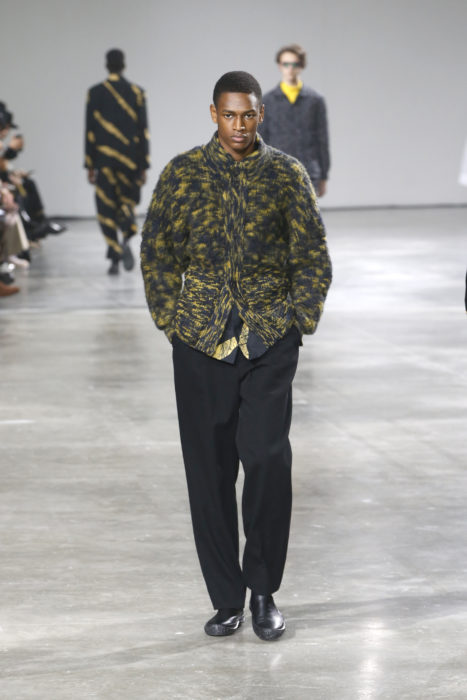 Virgil Abloh's OFF-WHITE presented a handful of colorful looks in an immersive nature set at The Carrousel Rooms—an expansive space at the center of the Louvre Palace. There, a collection of special guests like Offset, Playboi Carti, Madison Beer, Octavian, J Balvin, and Miles Richie gathered, dressed in OFF-WHITE to see the new pieces.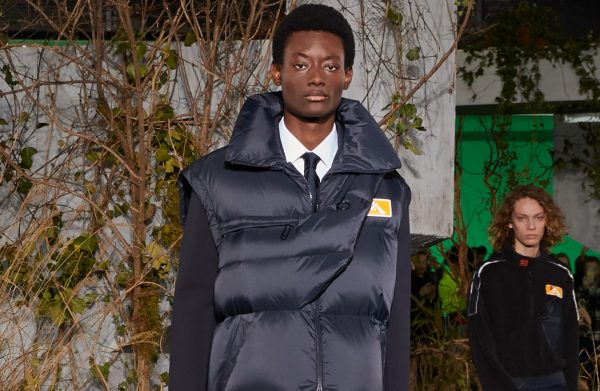 For Fall/Winter 2019, we noticed a mix of structured silhouettes on shirts with ties and blazers, paired with oversized coats or pants. Long pull-strings on hoodies and pants took on a rainbow effect, starting as blue and fading to orange. An ankle-length puffer vest had a built-in belt bag, shoes caught attention for their long strips of metallic and leather dangling from front to back, and plaid took on shirts and side bags, and backpacks. For accessories, cowboy boots and sneakers were seen down below, necklaces with spikes wrapped around the neck, furry satchel bags in green, blue, and red were carried altogether, and football helmets—donned with mascots like the Texas Longhorns—kept heads held high.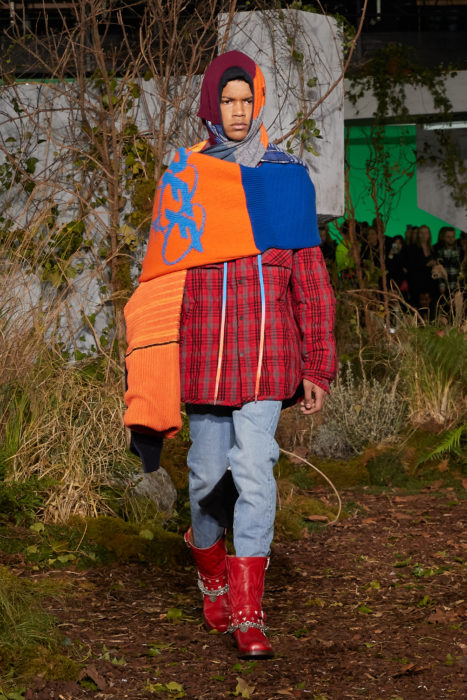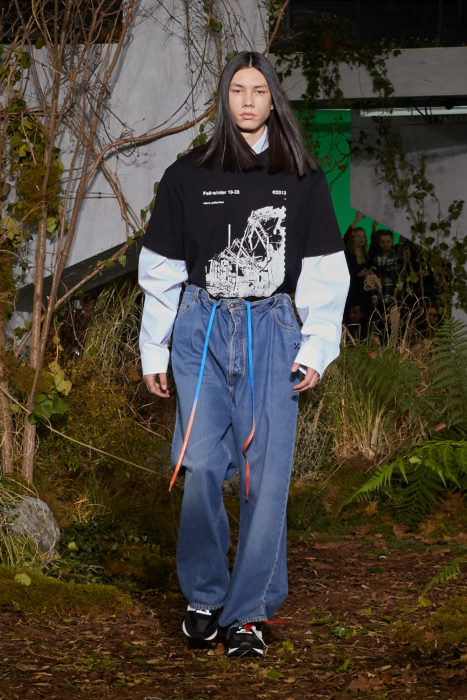 In an industrial space with a sprawling skylight and brick walls, Valentino staged its presentation for men's Fall/Winter 2019. Right away, we noticed new partnerships that were special for the collection, including a collaboration with Japanese label UNDERCOVER. Helmed by Jun Takahashi, the brand is seen infusing several of the looks with streetwear attitude, like the brown leather Garavani bag—featuring a historically-dressed male figure in green and white with a purple spaceship instead of a face—and a "VU" logo. Relaxed silhouettes aided to this street-heavy line, with fluid volumes, monochromatic pairings, and softened constructions.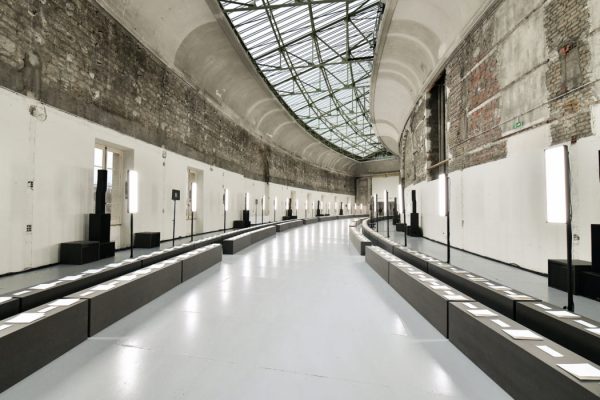 New for the season, as well, is a partnership with Birkenstock, which we saw immediately with red slides. In the collection notes, we home in on the wording that says it is a "universal sign that has been universally adopted and included in the repertoire of the Maison." Authentic to the times, but also to the atelier, the new collection presents indelible inclusions: matching blue coats and caps with a pattern made up of a new "VALENTINO UNDERCOVER" pattern; and UFO patterns on sweaters, long jackets, topcoats, knits, bags, and patches.