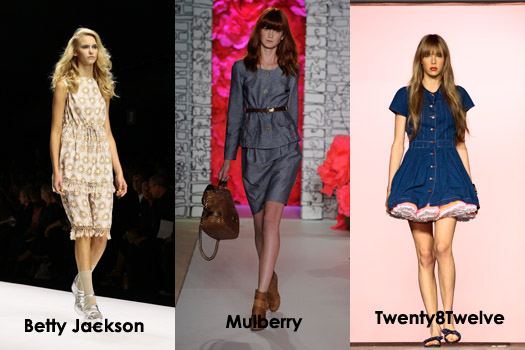 LONDON, Sep 21, 2010 / FW/ — The New York and London catwalks agree; for Spring 2011, hair is going to be wavy and textured with soft breezy wisps for a touch of romance.
Here in London, Mulberry, Twenty8Twelve and Betty Jackson adhered to this trend as they sent models wearing their shoulder length hair down. A little volume for bounce, texture was added by giving the hair some loose curls.
If this look appear effortless to you, you're actually correct in that assumption. It's an easy style to achieve using the ghd hair straightener, ghd thermal protectors and styling products.
To create the look, blow dry your hair first for best results. Then, part the hair down the middle and section off the top and bottom.
Starting from the bottom section, gather a segment of your hair and lightly pull away holding it straight. With your other hand, put the ghd IV styler on the roots turning it slowly to make a half circle as it gradually glides at the end.
Catch the hair segment as it falls; slightly twist it to create loose curls. Repeat the process until all sections are done.
If you wear bangs and want to keep them sleek and give it some volume, the ghd hair straightener can also help.
Insert your ghd IV styler and brush at the root area. Glide the styler towards the end of the hair, with the ghd anti-static brush following. As you reach the end of the hair, simply roll the end of your hair under with the brush. This gives you volume with a beveled edge.
And voila, you have recreated the look for Mulberry and Twenty8twelve!