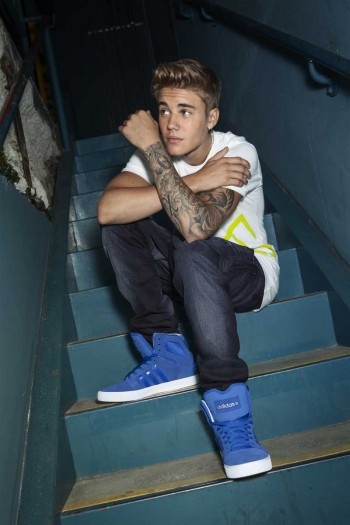 Teens from around the world are being given an exciting opportunity to produce the new adidas NEO Label campaign video starring pop/R&B global phenomenon Justin Bieber, which features a track from his latest album.
Fans of the teen lifestyle brand can become a real life music producer with the #NEObiebermix challenge, by using exclusive footage filmed at Bieber's Spring/Summer 2014 photo shoot. Never-before-seen film clips can be edited to create a one minute video that will be edited with 'Swap It Out', a track from his latest compilation 'Journals'.
NEO and Bieber lovers can edit the film clips on adidas.com/neobiebermix, where a range of effects, filters and fades can be applied to their video mix. Justin will tweet his personal favourite to followers across the globe, and this winning entry will be used across the NEO global social advertising campaign. Other selected entries will also become famous, being featured as content on NEO social channels, in retail and seen by millions of fans.
Justin commented: "We're turning the tables with adidas NEO Label, giving my fans the chance to get creative and show me how they'd mix the video for Swap It Out. A video has never been made for this track so I can't wait to see where my fans will take it and to choose my favourite."
The #NEObiebermix challenge will run from 19th March for two weeks. To make your video and to stay up to date on all things NEO, visit http://www.adidas.com/neo or visit the NEO Twitter account @adidasNEOLabel.
Justin can be seen experimenting with different looks from the new adidas NEO Label collection in the latest series of campaign imagery, also launching on the 19th March. He can be seen chilling and relaxing in a musical environment with the candid images showcasing his personal style.
adidas NEO Label is available through the adidas.com online shop, in NEO stores and wholesale accounts around the world.