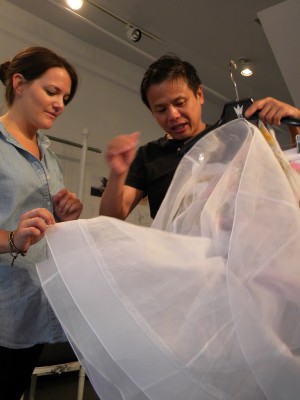 NEW YORK, Sep 9, 2010 / FW/ — On the eve of Mercedes-Benz Fashion Week, FashionWindows dropped by Zang Toi's atelier to get a sneak peek of his upcoming Spring 2011 collection.
Inspired by the 1956 movie Giant starring Rock Hudson, Elizabeth Taylor and James Dean and filmed entirely in Texas, the collection though we have not seen it yet hit home for us here at FashionWindows because we call Texas home.
Another significant development for us Texans who are fans of Zang Toi, our favorite designer will have a trunk show at Neiman Marcus North Park Center and Neiman Marcus Fort Worth in October!
We don't have the exact dates yet but we promise to post it as soon as the dates are firmed up.
Let's have Zang Toi talk about his collection by watching the video below.
[MARI DAVIS]