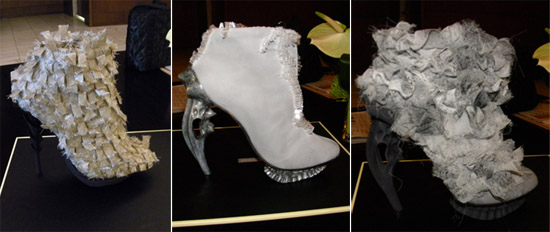 MONTREAL, Oct 4, 2010 / FW/ — With the design philosophy, "Taking from my mind all what I've seen, looking for what has never been…" Anastasia Radevich titillates the imagination of not just shoe lovers but fashionistas as a whole as she mixes high fantasy ideas to mundane objects to create uber sexy shoes.
"My guiding spirit is mother nature," said Anastasia when asked who her muse is. And you don't have to look far to see Gaia in Anastasia's designs. In her Biofuture 2010 Collection, you could easily recognize "vines" or "rock formations" on the heels. In Kinetik 2011, you think of tree roots and the night sky.
Yet, for those who had seen any of Anastasia Radevich's pieces, the "high fashion, high concept, high fantasy" description easily comes to mind. The shoes could easily be worn by the galactic amazons in the sci-fi/fantasy genre.
And because the shapes are organic, it is also easy to shift the focus to high concept. Saving the best for last, Anastasia who gained experience working for Alexander McQueen has kept the spirit of the late British designer in her work. The drama, the showmanship and of course, high fashion!
A graduate of the London College of Fashion where she majored in footwear design, Anastasia has such a good time designing shoes that when asked if she could design only one fashion item and nothing else, she chose shoes without any hesitation.
And just for fun, we asked her that "if the fashion gods told her to banish ONE item of clothing and/or accessory forever, which would it be?" she answered immediately, SHOE LACES because they are from the "Mesozoic Era ".
Armed with her healthy sense of humor and a great talent for design with the belief that fashion is for self expression and fun, Anastasia aggressively develops her label by dividing her time between Europe and Canada. Based in Montreal, where the design process takes place, the shoes are produced in Italy, hence Anastasia finds herself crossing the Atlantic more often than most.
Young and energetic, it is not hard to imagine how she could get her adrenaline pumping all the time. After all, she said that if she did not go to fashion design, she would have tried out to be a test pilot!
ANASTASIA RADEVICH
4931 Coronet Steet, #1
Montreal, H3V1C9
CANADA
Email: info@anastasiaradevich.com
www.anastasiaradevich.com  
[MARI DAVIS]
Photos by Mari Davis