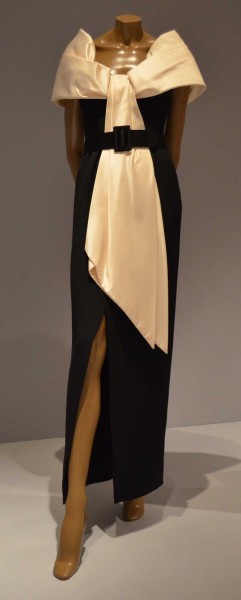 Bill Blass (William Ralph Blass) was born in Fort Wayne, Indiana. He was raised by his widowed mother from the age of five. His attraction to fashion and the glamour of movies was partly an escape from the depression era.
By age fifteen he was selling sketches of evening gowns to Kalmour which helped pay for fashion school in New York. After serving in the Army during WWII he came back from Europe to New York where he worked for Anne Klein, Anna Miller, and then Maurice Rentner. After taking over the Rentner firm he established Bill Blass Ltd. in 1970, which he headed for 29 years.
Blass brought a simple elegance to his designs such as that seen in the long evening dress of black-silk-crepe. The dress features a front slit and a cream silk-satin piece draped over the shoulders, held at the waist with a black crepe belt, flowing down as a scarf.
His collection of 1981 showcases a short cocktail dress with one shoulder made with black and cream silk georgette using asymmetrical bias ruffles. Blass was not afraid of color. His wool day coat from the early 1970s has a design that is reminiscent of art nouveau with an almost paisley feel. It is made up of oranges and yellows with accents of maroon, gray, and cream.
Blass, like Sprouse a heavy smoker, died as the result of oral/tongue cancer which became throat cancer in 2002. >>>more>>>
[MARSHA BENTLEY HALE, Ph.D.]
Photos by Marsha Bentley Hale
An American Legacy: Norell, Blass, Halston & Sprouse
May 4, 2012 – January 27, 2012
Indianapolis Museum of Art: Gerald and Dorit Paul Galleries