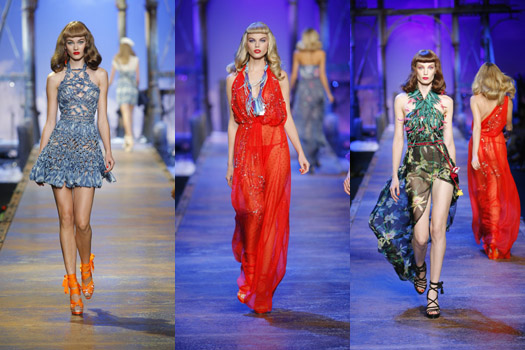 PARIS, Oct 8, 2010 / FW/ — If ever someone will write a sequel to Vladimir Nabokov's "Lolita", he or she has to consult with John Galliano on how to dress the 21st century version of the this 1950s nymphet from New England.
Putting an adult Lolita in an exotic tropical island, Galliano dresses her in bright colors of very light translucent tops and dresses that are either embroidered or proposed in prints of exotic plants.
Naval motifs in the form of waterproof parkas and flared impeccable tailored blue pants are reminiscent of the South Pacific. It is also worth noting a complex and painstaking work on two collections of dresses, all woven from pieces of fabric.
Must have accessories include the gorgeous blue necklace and the new Dior sunglasses .
[MARI DAVIS & LIDIA BARDINA]
Photos courtesy of Christian Dior
Paris Prêt-a-porter Spring 2011