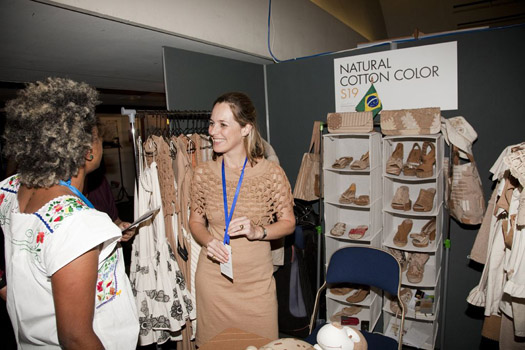 LONDON, Oct 27, 2010 / — With more than 800 fashion professionals in the guests roster, the Ethical Fashion Source Expo has become an industry reference in ethical fashion after its overwhelmingly successful second year.
The world's only annual industry trade show representing suppliers of ethical and fair trade fabrics, components, and manufacture, the Ethical Fashion Source Expo was developed and organised by Ethical Fashion Forum. The event took place alongside the RITE Conference in Westminster Conference Hall, London, on the 6th of October 2010.
From small cooperatives changing lives in Uganda, to mainstream manufacturers pioneering inspirational solutions to environmental challenges, the Expo hosted 63 exhibitors – all working to fair trade and high ethical standards – from all over the world. Proving to be an incredible opportunity to meet more than 800 attendees, who were witness to an accelerated increase in the competitive market, the exhibitors later let us know how they had benefited.
Paper Vine, exhibitor, said: Thank you for organising a wonderful Expo… the footfall was excellent throughout the day and we certainly felt that there was a lot of interest in Paper Vine, so we are happy customers! We look forward to working with you again in the future.
Ada Zanditon, exhibitor, said: "Source Expo was an excellent event that Ada Zanditon was delighted to participate in – it was a great showcase for the brand and excellent contacts were made with both boutiques and press."
The Source Expo was also attended by retailers that included Mark & Spencer, Tesco, New Look, John Lewis, Arcadia Group, Vivienne Westwood, Burberry, ASOS and many others.
Alongside a Designer Pavilion hosting 12 brands at the forefront of ethical fashion design, a selection of seminars were conducted throughout the day, which featured important industry figures such as Katherine Hamnett. Discussions were broad and covered issues from sourcing from China, Africa and India to certification and standards, innovation and best practice.