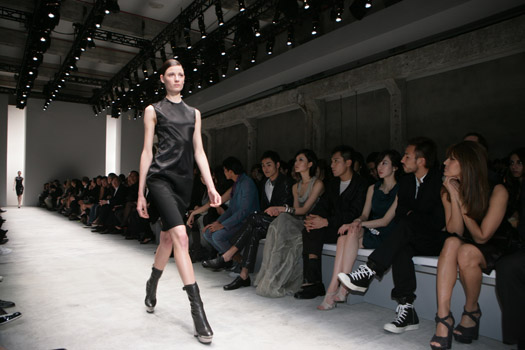 NEW YORK & SHANGHAI, Apr 21, 2010 / — Expanding its reach to China, Calvin Klein, Inc. held a large-scale runway presentation showcasing 100 looks from the Fall 2010 offering of Calvin Klein Collection, ck Calvin Klein, Calvin Klein Jeans and Calvin Klein Underwear.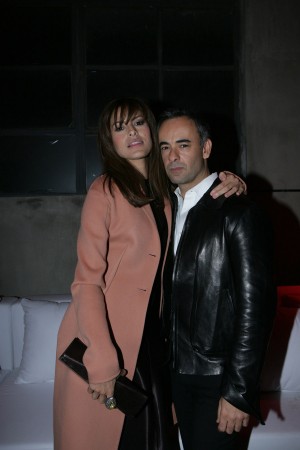 Last week, the company's Creative Directors – Francisco Costa, Italo Zucchelli and Kevin Carrigan traveled to China to host the multi-brand runway show held during the weekend.
Featuring 100 looks from the Fall 2010 apparel and accessories lines on more than 70 models from around the world, the show was attended by a VIP audience that spanned the worlds of fashion, art, sports, and media.
Joining Messrs. Costa, Zucchelli, and Carrigan, were Tom Murry, President & CEO, Calvin Klein, Inc., and many other notables including actress Eva Mendes, Hidetoshi Nakata, Lim Soo Jung, Liu Ye, Du Juan, Chinese pop band, SuperVC, Georgina Wilson, and Fernando Marcos "Borgy" Manotoc – all of whom were wardrobed by Calvin Klein Collection.
Those in attendance who were wardrobed by ck Calvin Klein included Taiwanese actor/model Ethan Ruan and supermodel Liu Wen, who closed the show and is currently featured in the ck Calvin Klein Spring 2010 advertising campaign.
Other notables in attendance included Lilin Wong, Zheng Gang, Veronica Chou, Jacqueline Zhao Jun, Jing Xing, Han Feng, Qiu Hao, Lu Kun, Bo Soong, B6, Zero Lin, Trevor Lai, Yang Yaqi, Samuel Bourdin, Hua Shen Xian, She Ya Jing, Yang Zi, Luo Yi, Sun Zhe, Su Mang, Grant Pearce, Christina Ong, Beng Seng Ong, and Formula One's Bernie Ecclestone.
The event also marked the launch of Calvin Klein X Underwear, the latest offering to be introduced globally from Calvin Klein Underwear.
Famed Japanese soccer star Hidetoshi Nakata – one of the four high-profile athletes and actors featured in the brands' new global advertising campaign – hosted the official after-party, in a space adjacent to the presentation which had been transformed for the evening, while New York DJ Stretch Armstrong led the music for the evening.
The event featured a special installation with 20 live underwear models impactfully positioned throughout the industrial space on red scissor lifts, against a backdrop of oversized video screens playing the new Calvin Klein X Underwear video – also featuring American actors Kellan Lutz, Mehcad Brooks and Spanish tennis star, Fernando Verdasco.
The invitation-only event was held at Bund 1919, a landmark building and former textile factory, situated on the scenic Huangpu River in the Wu Song area of the Baoshan district in Shanghai.
Photos by Orange Image Studio