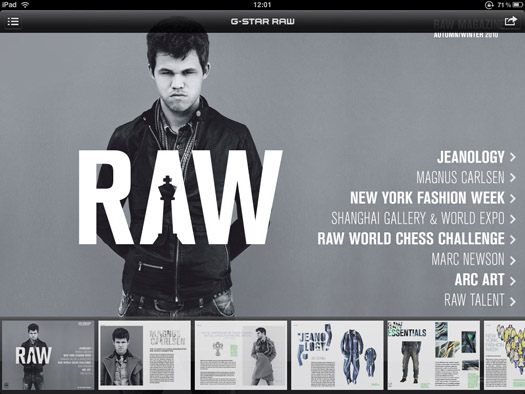 PARIS, Oct 21, 2010 / FW/ — Love G-Star; there's an app for that! G-Star, the iconoclastic jeans label has released its interactive RAW Magazine for iPad.
The G-Star RAW Magazine iPad App brings its users directly into the heart of G-Star's world, providing easy navigation to review photos and information on the latest G-Star clothing collections and full-screen video from runway shows.
Details A specially digitized version of G-Star's RAW Magazine provides totally interactive navigation of the latest features, including articles on denim craftsmanship and technology, interviews with the latest campaign models and creative collaborators, information on up-and-coming young artists, and much more.
Users can share content with friends and the web via direct Facebook and Twitter feeds. Using 360 degree, rotating images they can inspect selected denims and learn about the efforts G-Star is putting into new, sustainable denims and environmentally friendly alternatives to cotton.
The G-Star RAW iPad App represents the perfect opportunity to explore G-Star's world.
Download the interactive RAW Magazine from the app store.
http://itunes.apple.com/us/app/raw-magazine/id395894198?mt=8