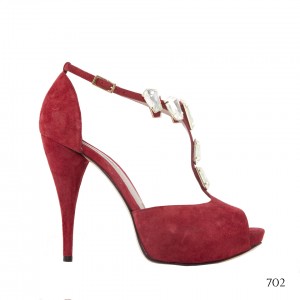 MILAN, Oct 27, 2010 / FW/ — The luminescence of plastic stones as they catch the light is the recurring theme of the Grey Mer Fall 2010 / Winter 2011 shoe collection.
Craftsmanship, creativity and research done to create the details are the ingredients that make this collection unique but it is the elegant style and exclusivity that makes them real "objects of desire."
Leather has been revisited putting unusual textures and colors into play to dimensional-jewel applications that give this collection a few flashes of genius.
The rigor of the geometry of the black stones set like diamonds are naturally placed on heels as sculpture. The crystals used sinuous movements to draw on high-quality materials like silk and laminates.