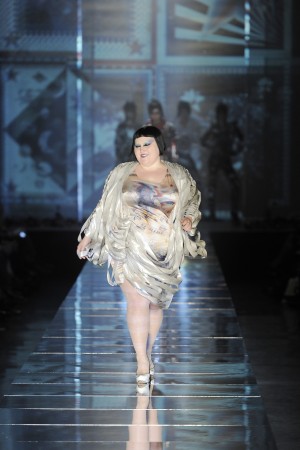 PARIS, Oct 2, 2010 /FW/—  The 3-D glasses in the invitation envelope were a forecasting sign of what was to come at the Jean Paul Gaultier show.  
The room was buzzing when the lights finally went down and a voice came echoing through the room, directing the audience to put on their 3-D glasses.  The show began with a surprise appearance by singer Beth Dito and a set that popped out with 3-D graphics.  
The first few looks also took on this futuristic look with prints that came at the audience through their lenses.  The collection progressed and was a gothic, rock'n'roll take on this Spring's trend of feminine details.  
Doc martin boots with sling backs and edgy lace-up heels, futuristic structured shoulders and bondage-esque pieces made the multi-colored shag wigs and piercings actually work.  
The micro pleating of airy fabrics and layers of sheers worn with Gaultier's infamous bustiers added the perfect bit of edgy femininity to the leather shorts and clunky boots.  
The show surprised us look after look, as it moved from gothic rock in blacks and reds to grunge neutrals and denim, then further into sultry black lace ensembles.  The show ended with a bang as Beth Dito reappeared, this time singing.  You know what they say- it isn't over until the fat lady sings.
[LINDSAY McCALLUM]