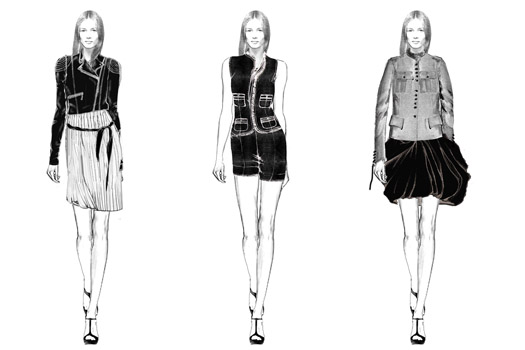 NEW YORK, Oct 22, 2010 / — Macy's announced a new fashion initiative that will engage acclaimed fashion designers to create a series of rotating collections for the retailer's contemporary fashion "Impulse" department.
Launching in February 2011 and continuing through the year, a new designer capsule will rotate onto the floor approximately every two months and will offer limited-edition women's apparel pieces to be sold in 235 Macy's stores and on macys.com.
Kinder Aggugini, a London-based designer who has worked with fashion icons and design houses including John Galliano, Vivienne Westwood, Paul Smith, Calvin Klein, Costume National and Versace, will be the designer to inaugurate Macy's international capsule collection series in February 2011 with a line that captures his covetable rocker-chic aesthetic.
"It is an incredible privilege to have the opportunity to bring established and renowned fashion designers from across the globe to Macy's fashion-seeking customer," said Jeff Gennette, Macy's chief merchandising officer.
"The launch of this designer program affirms that Macy's is a unique destination for fashion, bringing sophisticated design and aspirational fashion to a customer that desires and demands constant newness in her wardrobe. We are confident that Kinder's unique styling and intriguing background will appeal to Macy's 'Impulse' customer and satisfy her desire for high-end fashion at an affordable price."
The Kinder Aggugini capsule will be the first collection to be revealed in the designer series. Distinctly Aggugini, the line will feature modern, feminine and figure flattering silhouettes in two contemporary color stories: grey and blue with purple prints and soft pink and black.
Priced on average from $40-$140, with specialty pieces selling up to $300, the line will feature jackets, knitwear, dresses and shorts. Key items will include tailored leather and bouclé jackets, soft cardigans, ultra feminine silk shorts and Kimono-style dresses with Kinder's signature touches.
Clearly a reflection of Kinder's personality, this collection fuses his Savile Row skills with refined elements of his signature looks and rock n' roll attitude. Each piece is collectible, and when combined together, translates into a wardrobe full of surprises and total individualism. Other designers in the series will be announced individually in advance of each capsule.
"When I was approached by Macy's, I thought they were going to ask me to be in the Thanksgiving Day Parade," said Kinder Aggugini. "Imagine my surprise when I heard they wanted me to design a line for their stores all over the U.S."
"So I thought; a designer known for handcrafted luxury aimed to the fashion elite, to create a contemporary line for the kids of America? Oh yeah, sounds great! Let's do it! And we can make it different. Let's design it as if it was a runway collection, make this line about silhouettes, colors, draping and structure. The idea is to give it a chic look, that feels sexy and edgy and best of all, you can afford it."