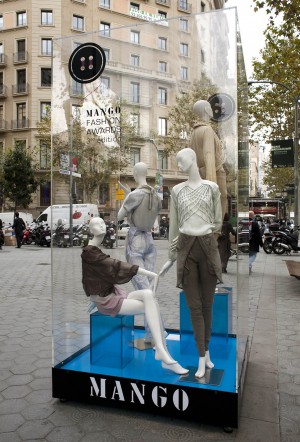 BARCELONA, Oct 26, 2010 / FW/ — For the 3rd edition of ¨El Boton¨- Mango Fashion Award, Israeli designer Lena Lumelsky was named winner of 300,000 euros fashion grant by the Jean Paul Gaultier, who was the Chairman of the Jury.
The 10 finalists for the award were Xavier Zazo and Clara Brull of Zazo & Brull (Spain), Jean Pierre Braganza (Canada, UK), Motonari Ono (Japan), Michael Sontag (Germany), (Fabio Sasso and Juan David Caro of Leitmotiv (Italy), Rocco Iannone (Italy), Isabelle Steger (Austria), Harvey Bouterse (Belgium) and Mathew Cunnington and John Sanderson.
To support this fashion initiative, Atrezzo offered their mannequins to be used in the public display at Paseo de Gracia where all the entries to the contest were put in vitrines for all of Barcelona to see.
Based in Barcelona and founded in 1978, Atrezzo Mannequins is an established leader in visual merchandising for fashion retail.
Photos courtesy of Atrezzo Mannequins