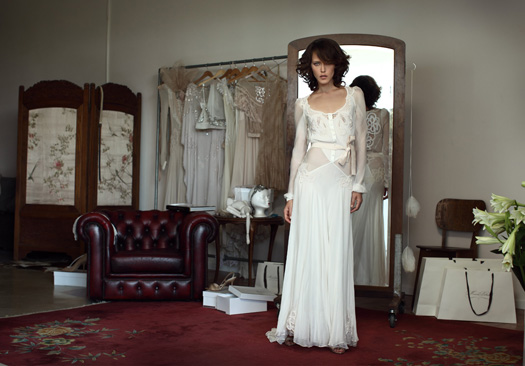 NEW YORK, Oct 29, 2010 / — With the opening of its first flagship store in New York City's Meatpacking District, Maison Bellaish now enters the US market with an official collection launch.
Created by Victor Bellaish, a highly accomplished designer based in Israel, the Maison Bellaish collection has an elegance of the past with a modern aesthetic, finding inspiration from the Art Nouveau movement and creating an updated artistic look that is feminine and cool.
A graduate of Shankar Design and Textile Academy, Victor Bellaish worked as a top in-house designer for Roberto Cavalli for several years, during which he played a key role in raising the brand's profile to international status.
He launched his namesake label in 2000, while also working with Les Copains from 2001-2005 and moving on to a design consultant role for Gianfranco Ferre during 2006-2007. He began to develop the Maison Bellaish label in 2006 and now is launching it officially with the US label and store opening.
Offering an elegant mix of day and eveningwear with a twist, Maison Bellaish designs feature intricate detailing and superior craftsmanship.
Silk is a key fabric used in the collection, creating styles that exude a sexy yet relaxed femininity, often with unexpected design elements. For instance, a flowing bias-cut silk chiffon gowns features hand appliquéd Swarovski Crystals or studs.
Each piece is unique and versatile and many of them are hand-finished. Items carried in the store range from tailored drop-crotch trousers, skirts, silk blouses and tanks, several styles of dresses as well as evening and bridal gowns.
Accessories include double-layered gauze scarves, hand-made necklaces made with exotic feathers (some mixed with chains or Swarovksi Crystals and lace) and belts.
The design aesthetic of the boutique was inspired by an old dressing parlor in Paris in the early twentieth century. The entryway features glass doors with custom-made bronze cast handles, which are the logo of Maison Bellaish.
The space provides a light and airy feeling, with rustic wood floors, lofty ceilings, a dramatic curved staircase and exposed brick, preserving some of the landmark elements in keeping with the history of the Meatpacking District.
A life-size mannequin, named Fricase by Victor, sits thoughtfully on a stage in the window. The mannequin is also the inspiration behind each collection as well as the design of the logo for the brand.
The space was designed by Bellaish along with Ychay Simkhai, a Partner in Maison Bellaish and owner of the firm Y Design Build LLC, which handled the build-out of the store. The upstairs Atelier is complete with a design studio with sewing machines and will offer bridal fittings and custom in store tailoring.
Maison Bellaish
36 Little West 12th Street
(between Washington Street and 9th Avenue)
New York, NYTel: 646.476.5363
Store Hours:
Monday- Saturday 11 am -7 pm (Thursdays until 8),
Sundays 12-6 pm.