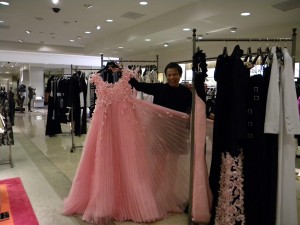 DALLAS, Oct 17, 2010 / FW/ — It was a debut of sorts for designer Zang Toi when he visited Dallas on Oct 15th and 16th. It was not his first time in Dallas, nor his first time to hold a trunk show at a Neiman Marcus store.
But, it was the first time that Zang Toi made a personal appearance at the luxury retailer's Northpark Center location and thus making it his official debut at Neiman Marcus Dallas.
Almost always on the road for about half-of-the-year if we add up the days that he travels around the country holding trunk shows, Zang Toi is one of the few designers who actually meet his clients and takes care of them personally.
"I love meeting my ladies," said Zang Toi, who refuses to call his clients as "customers" and always refers to them as his "ladies." "I like giving them my personal advice and also giving them a personal fitting."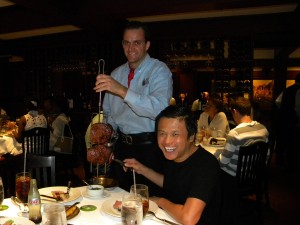 Officially, both of Zang Toi's lines – his namesake line and Toi House, his youthful and more affordable line are classified as ready-to-wear. But both are made-to-measure and thus one actually orders it; hence a personal fitting and more often than not styling, is part of Zang Toi's service to the ladies.
Though I have known Zang for a very long time and I have interviewed him in several occasions in his atelier and also backstage before a fashion show, this is the first time I have observed Zang with his ladies.
His ebullient personality shines through and his knowledge of fashion and style is on a Wikipedia level but his love for dressing up women is truly the one which is fascinating. He instinctively knows which item or piece will look good for someone though it is the first time that he met her.
Still, it is not all work for Zang Toi. "Oh, I find time to work out no matter where I am," he said. Which I find out to be very true because we had to make our dinner reservations an hour later than my original plan so that Zang can stretch some muscles.
But, it was worth the wait!
Since Dallas is my home, Zang allowed me to choose the restaurant. I made reservations at Fogo de Chao, an authentic Brazilian steakhouse where gaucho chefs expertly grill 15 cuts of meat and offer continuous tableside service. In short, it's all you can eat steak!
Thank goodness that none of the three of us – Zang Toi, Lauren Scruggs (Editor at FashionReporters) and I, is a vegan. But, just in case you are a vegetarian but still wants to dine at Fogo de Chao, the restaurant has a sumptuous salad bar.
[MARI DAVIS]
Photos by Mari Davis