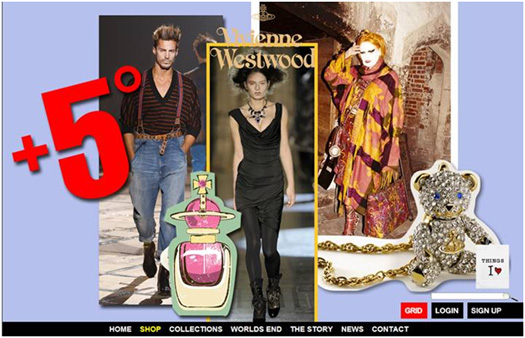 LONDON, Oct 30, 2010 / — On Monday, November 1st, Vivienne Westwood is unveiling her newly retrofitted online channel, www.viviennewestwood.com .
From viewing the latest runway shows to online shopping, Vivienne Westwood is combining content and e-commerce under one roof with Red Label, Anglomania and MAN will be now available to purchase online.
Read about the story of Vivienne Westwood with a brand new section dedicated to her history until present day, giving you insights into collections and inspirations behind them.
For the launch, Vivienne Westwood will also showcase archive video footage from some of her best known collections such as Le Flou Taille, Voyage to Cythera and Anglomania.
Celebrating the re-launch of the site, on November 1st, Vivienne Westwood will offer a special promotion for those purchasing on the night. T
he first 100 customers to spend over £100 will each receive the latest Vivienne Westwood designed, aluminum SIGG bottle valued at £18. In addition, all customers purchasing before 7th November will receive free shipping on their purchase.