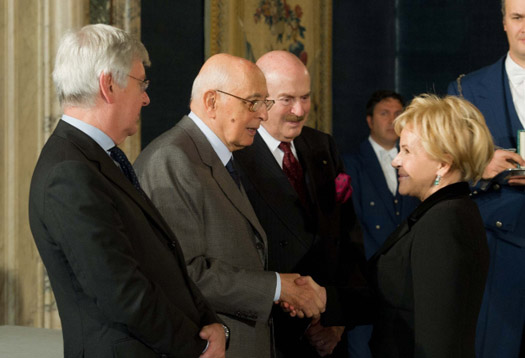 MILAN, Nov 21, 2010 / — On Wednesday, November 17th, Italian designer Anna Molinari was presented with the prestigious title of "Cavaliere del Lavoro" (literal English translation is Knight of Business).
During the ceremony, which took place at the Palazzo del Quirinale in Rome, Italian President Giorgio Napolitano presented this important honor to 25 people (Anna Molinari is one of them) who were selected on June 2009.
Anna Molinari is receiving the honorary title for having contributed with her style and entrepreneurial work, to promoting Italian production worldwide, with important social and employment spin-offs.
"I have pursued with determination, commitment and sacrifices all the goals which I have set myself, privileged to be able to do the job which excites me the most and through which I can express my creativity in full", declared Anna Molinari.
"I'm very happy and proud of this important honour which I am to receive from President Napolitano. It is confirmation of my constant dedication to work and the crowning of the dream of a lifetime, following the example of my father, Guido Molinari, who in 1958 received the same award".