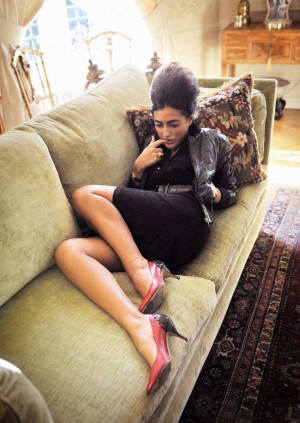 PARIS, Nov 4, 2010 / — Her first name resounds, joyful and determined, like a pair of stilettos in the family firmament. Inès-Olympe Mercadal definitely has the love of the shoe in her.
In 1950, her grandfather Antoine Mercadal, left Franco's Spain for a better future in France. He brought with him his bootmaker's know-how and quickly created his first shoe factory in Paris in which he collaborated with the most important French shoemakers.
In the early 80's, he launched his own brand named after his only son, LAURENT MERCADAL. The brand struck a dazzling popularity thanks to the beauty of the leather and diversity of colors. He launched the python fashion in his collections of sober pumps with matching belts and handbags.
A prestigious clientele would crowd the five Parisian shops of the famous bootmaker. LAURENT MERCADAL also relaunched the fashion of the cowboy boot by using numerous lizard and crocodile leathers.
In turn, in 1995, Inès-Olympe's mother, Marie-Laure Mercadal, maintained the prestige of the MERCADAL brand, by establishing ATELIER MERCADAL and by designing elegant and refined Collections in which many Parisian women can identify. The style and the choice of the materials impart the quality of the shoes.
Now, 23 years old, Inès-Olympe sets foot in the family temple and launches with her mother the ATELIER MERCADAL VINTAGE line.
The inheritance of five generations of shoemakers vividly lives on within her. Inès-Olympe claims her Spanish origins, her passion for shoes and her penchant for factories "because it is in factories that one learns to design shoes ".
She affections the strong smell of leather and glue, the physical strength needed "to finish" a shoe; it is a business in which the hand of man is essential.
Inès-Olympe Mercadal not only likes designing shoes but wearing them. Her ATELIER MERCADAL VINTAGE Collection is a variation of her grandfather's "Elena" design, a vintage pump, a seven-centimeter conical heel where color and materials are essential.
A line of five designs, existing in 3 materials: glazed kid, patent suede and python in a combination of three colors: metallic bronze, red and black. The number of models is limited but they are immediately recognizable and those pumps resemble her: classic and funky.
Photo by Frédérique Veysset