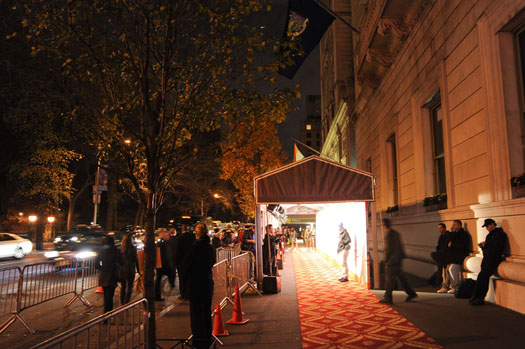 NEW YORK, Nov 19, 2010 / FW/ — Thursday night, at the landmarked Pierre Hotel, Alber Elbaz and H&M unveiled the highly anticipated Lanvin for H&M collection with the entertainment and fashion world's who's who in attendance.
Sofia Coppola, Andie MacDowell, Emma Roberts, Leelee Sobieski, Anna Sui, Tory Burch and Alexander Wang, among other guests, came out to celebrate the collaboration of the Lanvin for H&M collection.
Guests arrived on the red carpet and were greeted by the landmarked Pierre Hotel façade which recreated with NYC styled graffiti, and then they entered the hotel which was swathed with flowers, trees and greenery.
And then came the runway show that guests will not soon forget. With famed models models Asia Chow, Pixie Geldof, Dree Hemingway, Olga and Anna Dello Russo on the catwalk, the Lanvin for H&M collection came to life.
Alber Elbaz, artistic director at Lanvin, has created the women's collection with an extraordinary ambition for H&M, bringing the codes of the house to make every single piece identifiably the work of Lanvin.
For women there are dresses of breathtaking cut and joyful colour, as well as pieces full of Parisian glamour and accessories with playful "joie de vivre".
The menswear collection designed by Lucas Ossendrijver, menswear designer at Lanvin, encapsulates the label's complete vision of how men should dress. It's a whole new wardrobe of covetable updated classics, with tuxedos made for daywear and jogging pants adding a whole new sporting twist.
Sofia Coppola said of the collection, "I think Alber Elbaz is great, I love what he does at Lanvin, it's so girly and playful and confident. It's so cool he's working with H&M, it makes it so accessible to all kinds of young people to be able to afford it and wear it".
And Andie MacDowell said, "I think it's genius. I'm a big fan of Lanvin. I can afford Lanvin and my daughter can afford H&M, and now my daughter's going to have the opportunity to have a little bit more pizzazz."
Looks from the haute couture show along with five original signed sketches from Alber Elbaz went up for auction on www.lanvinforhm.com . All proceeds from the auction will be donated to UNICEF, as part of H&M's "All for Children" project. The online auction will end on November 26th at midnight CET.
The Lanvin for H&M collection will be sold in around 200 stores worldwide. It will be launched November 20 in US and Canada, and on November 23 in the rest of the world.