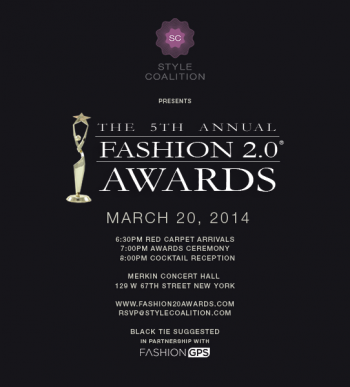 NEW YORK, Mar 12, 2014/ — The awards season continues with Style Coalition announcing the nominees and a new award category for the 5th Annual Fashion 2.0 Awards.
For the first time ever, the Digital Navigator Award will be awarded to an individual who has been a media catalyst for the online community. As the Event's industry partner, Fashion GPS will unveil the winner of the Digital Navigator Award.
The Digital Navigator Award celebrates the dedication individuals have made to bridge the gap between traditional and non-traditional media, bringing recognition to the power of social networks and its supporters.
(DISCLOSURE: FashionWindows is a member of the StyleCoalition)