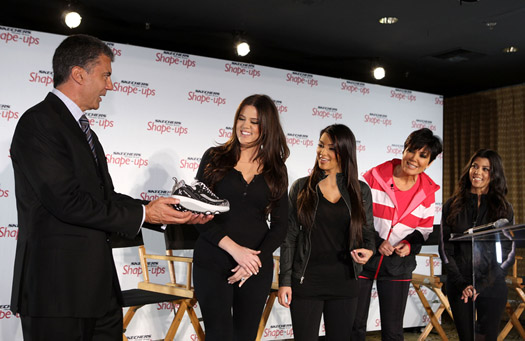 LOS ANGELES, Nov 23, 2010 / — Mother and daughter team, Kris Jenner and Kim Kardashian will headline the 2011 advertising campaign of Shape-ups, Skechers' fitness footwear line designed to meet the varied workout needs of every individual.
As announced yesterday, Kim and Kris will be the faces of the campaign which launches in 2011 and includes multiple mediums of advertising, in-store and social media, a "Shaping Up With The Kardashians" challenge, and other exciting elements that will be unveiled at a near future date.
This "Shaping Up With The Kardashians" mother-daughter fitness challenge between Kim and Kris will encourage consumers to begin their own Shapeups fitness challenges.
"My mom and I are thrilled to be joining the SKECHERS family to help promote health and wellness," said Kim Kardashian. "Shape-ups have already impacted my fitness routine for the better. I am always on-the-move and never know exactly when I can fit in my next workout."
Kris Jenner added, "The SKECHERS Shape-ups styles are perfect for the woman-on-the-go. As a working mother of six, I am constantly on my feet, running from one appearance to the next, but with Shape-ups, I am always working out, even when I'm working."
Consumers can also "Shape-up & Win" with Kim and Kris through the SKECHERS Holiday Giveaway. Through www.facebook.com/SKECHERS, SKECHERS will give away one pair of Shape-ups every week throughout the holiday season, from November 22 to January 10.
Anyone can enter the contest by visiting SKECHERS on Facebook at www.facebook.com/SKECHERS. As an incentive bonus, all who enter the contest are already a winner, and will receive a special "gift" from the Kardashians – a discount code worth between 10% and 50% off a shoe purchase at checkout.
Shape-ups from SKECHERS are an innovative patented fitness tool designed to promote weight loss, tone muscles and improve posture.
Shape-ups feature a unique soft Resamax™ kinetic wedge insert and rolling bottom that simulates walking on soft sand, providing natural instability that causes the wearer to use more energy with every step.
The men's and women's fitness footwear line is available in sporting goods, department and specialty athletic stores around the world.