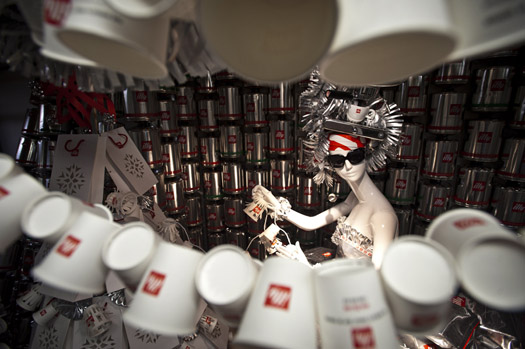 NEW YORK, Nov 17, 2010 / — Pleated, pierced and crimped together just so, here comes the planet's newest diva: Miss Illy, famed Barneys New York creative director Simon Doonan's singular vision in illy espresso tins and foil, debuted November 16 in the Barneys New York holiday windows.
Fresh and full-bodied as the primo Arabica she once so lovingly nurtured (her parts all fashionably recycled), Ms. Illy is the can't-miss vixen centerpiece of the iconic retailer's Madison Avenue flagship windows, themed "Have a Foodie Holiday" for 2010.
While Ms. Illy's proportions are entirely today — her look somewhat tomorrow – her picture- windowed home's measurements conjure yesterday's Italian bombshell. 300 three-kilo illy tins, 250 foil bags (former home to illy's single-serve iperEspresso capsules) and 250 8.8-oz. illy cans will turn heads clear to Fifth Avenue.
And does she ever accessorize, pulling off an espresso machine headpiece (ahem, illy's Francis Francis X1 iperEspresso machine), a coffee scoop-turned earring and a garland fashioned from 300 paper cups.
Doonan's playful, masterful Miss Illy may be new to the world and to Barneys New York holiday windows, but she's steeped in illy's longstanding relationship with culture and collaborations with contemporary artists.
Jeff Koons, Marina Abramovic, Julian Schnabel and the late Robert Rauschenberg are among modern masters who contributed original designs for the illy collection of espresso cups, dating to 1992, and now the world's largest assembly of single-item art collectibles. James Rosenquist, one of pop art's chief protagonists, designed illy's now iconic white-on-red square logo.
"This collaboration is entirely natural for illy. The coffee experience is about the best taste, to be sure. But it is also about beauty – about enjoying with all five senses, fueling mind and spirit," said Andrea Illy, Chairman and Chief Executive of illycaffè.
"Think of Miss Illy as the ultimate exercise in creative recycling," said Simon Doonan.
"One look, and you see she's quite the contemporary gal, so her recycled content goes right along with her modernity. Her very idea and life quite literally sprang from others before her. So while this is great fun, with art, with coffee, we are serious about the multi-use message, about sustainability, as has been illy, long before it came into fashion," Doonan added.
Miss Illy's street-level admirers are invited to visit the Barneys New York Madison Avenue flagship's ninth floor, where through December 31, illy will delight Barneys guests with complimentary espresso and cappuccino — the world's finest, prepared in the authentic Italian style by top baristas.