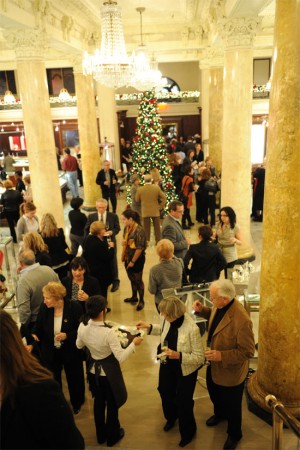 MONTREAL Nov 7 2010 – Something special was happening on November 4th. It was not just about an ordinary private event held by a jewelry store; it was about celebrating the innovative side of an old institution. People were waiting under the rain to see how Birks would do, once again, to impress them.
About a month ago, the company made a good impression, unveiling to the press the first in-house café, not only in a Birks store but in a jewelry store worldwide. Acclaimed by the press, this Café is a place to enjoy a beverage or sample decadent desserts, on site or to go. But this was just a part of the surprise waiting to be revealed on this past Thursday night.
As the guests entered in the store, a wonderful Christmas tree welcomed them. Celebration was in the air; we could immediately feel something had changed. Imagine my surprise to see, not only jewelry, but an amazing assortment of different home items. Birks was offering its guests a Christmas gift before time. Set up to reflect five environments: bar, boudoir, dining, office and living, Birks' selection of exclusive houseware and design objects were a pure celebration to luxury and a treat for the eyes.
They didn't hesitate to surprise their guests, giving them the chance to experience Birks' living concept at its best. Products were displayed in different stations allowing guests to touch and learn about the different brands and artisans.
One of the most appreciated stations was the Birks L'Aroma stand, were their new home fragrances were presented.
Featuring over 450 products, the Birks Living collection offer superior quality items, manufactured by renowned artisans and skilled craftsmen from around the globe. From vases and picture frames to crystal and stemware, clients will find everything to complement their decor. As a perfect balance, the Restaurant will features the striking silverware, stemware and dinnerware, giving us the chance to really appreciate this luxury.
In one night, Birks succeeded to reinvent the art of living by uptading our vision of luxury. Home decor has never been so chic.
The Birks living collection is on display in Montreal, Ottawa and Vancouver and on www.birks.com .
By MARIE-CHARLES
Pictures by Birks and Marie-Charles