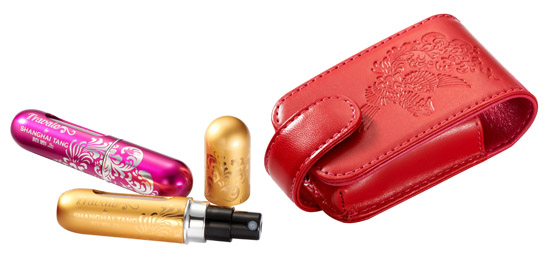 NEW YORK, Dec 21, 2010 / FW/ — Tired of leaving your favorite perfume at home because TSA will not allow you to bring it on the plane? Don't despair! Shanghai Tang has a chic solution for you.
Collaborating with Travalo, the innovative producer of pocket-sized, pump-action refillable atomizers, Shanghai Tang has come up with the 'Dragon' Travalo Set (below) for him and the 'Phoenix' Travalo Set (above) for her.
Equipped with a patented PumpFill valve that allows refills in seconds, the Travalo can be easily refilled from any pump-spray fragrance bottle.
The pressure regulator within ensures no leaks, making it wonderfully convenient to carry around up to 50 sprays per atomizer in your bag or even on the flight.
Each Shanghai Tang Travalo set includes two capsule atomizers, encased in a skillfully embossed leather pouch elegant enough for all occasions.
For Him, the Shanghai Tang 'Dragon' Travalo set comes with a handsome black leather case embossed with an iconic 'Dragon', symbol of power, strength, and good luck, which is also finely engraved on the sleek black and gun-metal capsule atomizers.
For Her, the Shanghai Tang 'Phoenix' Travalo set features a signature orange-red leather case embossed with a gracious 'Phoenix', symbol of good fortune, opportunity, and good luck. The capsule atomizers with engraved 'Phoenix' symbol in vibrant fuchsia and matt gold will melt away any lady's heart.
Whether it's the Ginger Flower perfume for her or the Mandarin Tea fragrance for him, one's favorite fragrance can be carried around wherever whenever with Shanghai Tang's Travalo set. Each capsule is also 98.9% recyclable and is naturally durable with its aluminum body.
The Shanghai Tang Travalo set is surely the ultimate accessory for fashionable urbanites and sophisticated jetsetters.