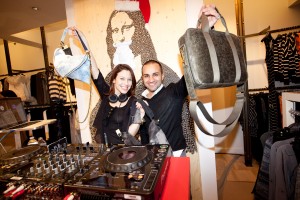 MONTREAL, Dec 16, 2010 / – Last Wednesday was the official launch of the exclusive collection from Matt & Nat for Holt Renfrew. Style icon of the Canada's fashion world since 1837, Holt didn't hesitate to pair up with the Montreal vegan brand to create a bags collection that is all about practicality and luxury.
For the occasion, and for the first time, the Montreal institution teams up with Montreal bloggers and had challenged five of them to create a complete look inspired by a bag from the exclusive collection. It was nice to see them running around looking for the perfect outfit, because the prize worth it. From December 9 to December 19, each look will be featured in the Montreal store, and clients are invited to vote for winning silhouette. The blogger, with the higher number of votes, will have the chance to be featured in Holt Renfrew stores during one complete month.    
This new partnership is part of Holt's evolution through the Quebec media scene. Bloggers have become, as everywhere else, an essential stop for brands because they are actual ambassadors dealing with their followers in real time.
And what's best than having all of them eat cupcakes, drink a glass of wine while looking at news bags that redefine fashion? Going from computer bags to edgy little one, the Holt collection is not so different from what we are used to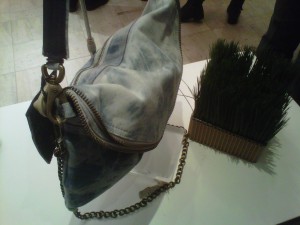 from Matt & Nat. Featuring zippers, washed denim, or quilted jeans, all bags are elegant, edgy and eco-friendly. We all discovered that Matt & Nat offers cutting edge products that are fashionable and yet made in a socially responsible way. Each product contains at least one recycled element and on average 21 plastic bottles are recycled to make linings for their bags.
If Matt & Nat has always been a pioneer in eco-fashion, they're now bringing new players in their game. By doing such great collaborations with important companies like Holt Renfrew, wearing eco-conscious brands will have never been so fashion.
[MARIE-CHARLES]
Pictures courtesy of Holt Renfrew and Marie-Charles