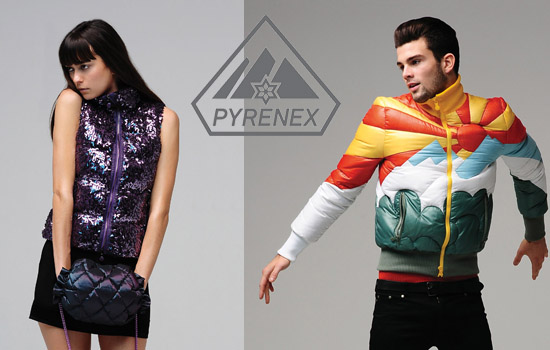 PARIS, Dec 1, 2010 / — After the success of their pop-up stores in London, Seoul and Paris, French brand PYRENEX is pleased to announce the arrival of their Premium collection of down-filled jackets at NOT JUST A LABEL, the global fashion platform and online store based in London.
Conjured up by couturier ALEXIS MABILLE, who was given creative carte blanche to fuse the impeccable quality and traditional techniques of Pyrenex with his unique, imaginative brand of haute couture, the Pyrenex Premium collection marries an urban sensibility with an altogether more frivolous, whimsical brand of luxury.
Sculpted, supple and soft, Mabille's work with volumetrics has upset all the codes in traditional down jacket design. The almost-weightless, ultra-warm feather filled material has been transformed into biker jackets and pea coats, capes and bombers in exaggerated proportions ranging from mini to maxi. Mabille's signature 'excess luxury' is evident with jewel-coloured fur trims or snowdrifts of tiny rectangular sequins.
Described as "a breath of fresh air in the realm of puffy-styles often associated with off-mountain lounging", Pyrenex Premium is the perfect fusion of performance and luxury.
NOT JUST A LABEL "Alpine Christmas" theme will be the perfect setting for this collection, and it will feature an exclusive interview of Alexis Mabille.
NOT JUST A LABEL (NJAL) focus is to be the leading global launch platform for emerging avant-garde fashion designers, providing a stage where collections are showcased online. NJAL helps new designers finance their progression independently as well as providing an easily accessible retailing forum via their online shop.
With over 15 million hits per month, representing over 5,000 designers from 80 countries worldwide and a red carpet celebrity following (think Lady GaGa, Rihanna and Fergie), NJAL looks to create trends, resist imitation, perpetuate innovation and infuse enthusiasm back into the industry of fashion.