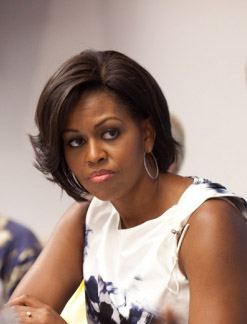 NEW YORK, Dec 23, 2010 / — The New Year is just around the corner! If you're looking for a quick and glamorous hairstyle to ring in the New Year, SoftSheen-Carson Artistic Style Director and Celebrity Stylist, Johnny Wright shares a quick and easy way to achieve a chic up-do with his famous up-tuck.
"I have done this style on a variety of my clients and it looks different every time, depending on the length of the hair. It's a really easy up do, and it looks really classy and appropriate for any occasion," says Johnny Wright.
Start your style off right with healthy hair – wash and condition using SoftSheen-Carson Optimum Care Salon Collection Replenishing Shampoo and Fortifying Conditioner which infuses hair with a healthy dose of moisture and is the first step in minimizing breakage.
Apply Optimum Care Salon Collection Heat Protection Polisher which will protect hair from heat, seal the cuticle and fight reversion to preserve your look throughout the night. Working in sections blow-dry hair until straight and smooth.
Without pulling hair all the way through into a ponytail, pull top 2/3 of hair back low and loose at the nape of the neck to form a base for the style. If you have layers, allow them to fall out of the ponytail for a more sultry look. A little bit of messiness makes the look effortless.
Wrap remaining hair around the base ponytail and secure with bobby pins.
Finish your look with a touch of lightweight shine, spray SoftSheen-Carson Optimum Care Mineral Oil-Free Sheen Spray. No heavy mineral oil build-up to weigh hair down!