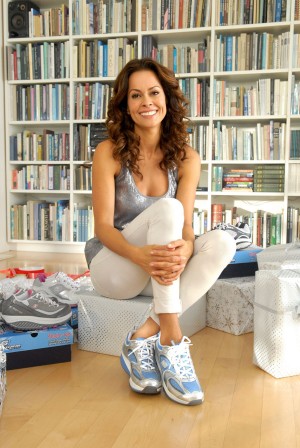 LOS ANGLES, Dec 15, 2010 / FW/ — Skechers wants you to dance your way to Shape-Ups. The famed footwear brand signed Dancing with the Stars winner and co-host Brooke Burke for a global endorsement of Shape-Ups fitness footwear line.
Becoming the Shape-Ups spokesperson is like continues Brooke Burke's collaboration with Skechers. Way back in 1995, she worked as a Skechers model and was and recently reunited with the brand for its "Nothing Compares to Family" charity campaign in 2009.
"I've always been a fan of SKECHERS shoes, but more importantly my experiences with SKECHERS from modeling to charity have been nothing short of fantastic," said Burke. "As a busy career mom it's hard to find the time to keep fit, but Shape-ups make it easy. I can feel the difference already!"
A worldwide phenomenon, the patented SKECHERS Shape-ups fitness footwear line offers a variety of styles and specialized features to meet the varied needs of individuals, which is perfect for Brooke's busy lifestyle.
This new endorsement deal brings Burke front and center as a worldwide face for Shape-ups in a campaign that will span print, television, online and outdoor.
Brooke Burke joins a storied SKECHERS celebrity roster that has included Britney Spears, Christina Aguilera, Carrie Underwood, Ashley Simpson, Robert Downey, Jr., Rob Lowe, and former Lakers player (and recent Dancing With The Stars contestant) Rick Fox. Additionally, Shape-ups campaigns have recently featured Joe Montana, Karl Malone and fitness expert Denise Austin.