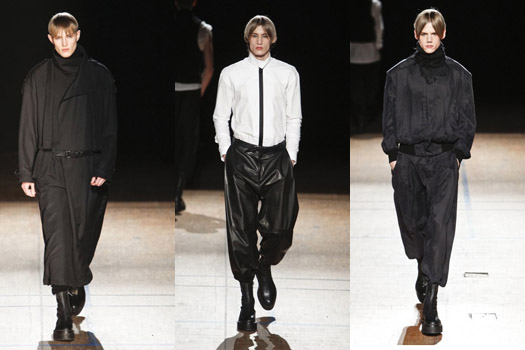 PARIS, Jan 24, 2011/ — For Fall Winter 2011-2012, the Damir Doma man is dictated by the philosophies that perspective everything, in a monochrome garde-robe that crosses sartorial boundaries. It allows the editing of human understanding and opinion, just as distance defines focus; details fade in and out of immediate reality.
Relishing contrasts, Damir Doma navigates a stalwart path between fluidity and classical notions of tailoring. Functional tendencies disrupt pure aesthetic, evoking the practical facets that denote uniform.
All of the silhouettes in the collection were lifted by a stacked shoe, elongating the male figure to force a heightened sense of theatre. Proportions are redefined, highlighting new lengths upon a strong footing.
Further contrasts existed in the editing of archetypal garments- a trench coat is amplified in oversized silk, bomber jackets fall short and fluid in the back, split hems descent over the hips on long, formal shirting. Blazers and waistcoats were streamlined with a concealed lapel and hidden buttons, as felted coats flared with sweeping funnel necks.
Outerwear was punctuated by topstitched strapping and tabbed pockets; trousers were seen traditionally with flat pleating and at times a dropped crotch seam.
Although the tones were simple, the textures ran the gamut. From laser-etched horse leather to quilted and washed silks, waffle cotton and polished wool felt. Calfskin was utilized to great effect as a drop-shouldered bomber, a dramatic fluid trouser and knitted into loose pullovers. Even some fur made its way into the collection as the trim on a 'creeper' boot.
Also grounding each look were derby shoes with heavy platforms, allowing bulky shapes to dominate the torso without loss of equilibrium. Knits and jerseys are squared off with dropped shoulders and wide necks, segmenting the male form in rigid, geometric layers.
[LINDSAY McCALLUM]