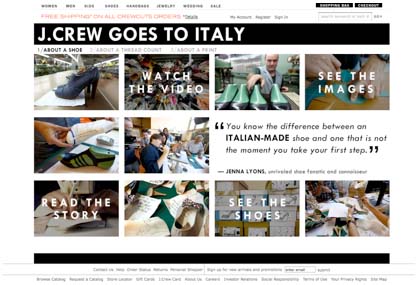 NEW YORK, Jan 27, 2011 / FW/ — Leveraging the power of the computer screen and the continuing popularity of made-for-web movies, J.Crew launched today, "About a Shoe", the first installment of a three-part series of "J.Crew Goes to Italy."
Created and directed by award winning filmmaker Douglas Keeve (director of Unzipped), "J.Crew Goes to Italy" is a collection of three short films. Following the label's design team as they travel to Italy, the films give a glimpse on the passion & quality that goes into every design of J.Crew products.
In the first installment, "About a Shoe", which was launched today at www.jcrew.com , Douglas follows Jenna Lyons (president & creative director) and designers (Marissa Webb, head of women's design & Frank Muytjens head of men's design) as they track the process of creating a shoe from sketch to the finished product.
The second video, "About a Thread Count" launches on Feb 24. It follows Frank, Jenna and Marissa and team tour Crespi (men's suiting) & Thomas Mason (men's shirts).
In the third video "About a Print" the team tours Ratti & Canepa. It launches on March 24.
All of the behind the scenes photos were shot by Jake Chessum.
http://www.jcrew.com/AST/Navigation/made-in-italy.jsp#/shoe/video