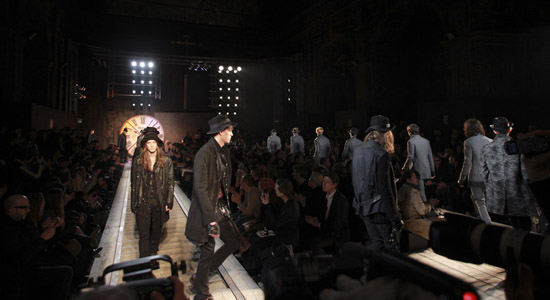 MILAN, Jan 16, 2011 / — "I am more interested in personality than trends. What I find exciting about fashion is that you can use clothes to build characters that morph and change season after season while keeping faith to their core values," wrote John Varvatos in his press notes.
True to his words, John Varvatos sent out comfortable looking clothes, sometimes even looking disheveled though even at the state of disarray, it is hard to hide the sharp tailoring and how the suits, jackets and trousers just fit perfectly on the model.
So, the John Varvatos gent wears his suede biker jacket under a woolen coat, or a coat-vest over the slouchy cardigan, securing it all with a sturdy belt at the waist, trying to be nonchalant about how he dresses, even the way he looks.
But instead of looking non-descript, he stands out with the soft and elegant way he carries his clothes that gives him an elegant bearing.
In short, John Varvatos has perfected "intellectual dressing with a rock & roll touch" for men.
[MARI DAVIS]
Photos courtesy of John Varvatos
Milano Moda Uomo Fall 2011
[nggallery id=298]