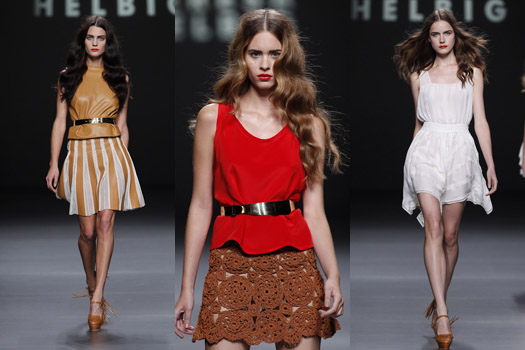 MADRID, Oct 24, 2010 / — For the new 2011 Spring/Summer season, Teresa Helbig proposes sensual, erotic aesthetics which she combines with the delicacy, femininity and elegance that are so present in her style.
An apparently innocent woman but with strength of character is once again the centre of attention together with the presence of an erotic, decadent world.
Leather, as a symbol of this erotic, sensual world, plays a prominent role together with Valenciennes lace, cotton brocade and handmade leather thread crochet flowers.
Teresa Helbig softens the toughness of the leather with the exquisite combinations that are so proper to the designer, making her new collection an extremely summery proposal which chooses waist-hugging leather skirts and leather tops, among other garments.
Noteworthy colours in the palette are white, ivory, touches of navy blue, ecru and leather, which pays deference to female sensuality. And to round off the look, Teresa Helbig has designed exclusive leather heeled moccasins which are ideal for the summer.
Photos courtesy of Cibeles Madrid Fashion Week
Madrid Fashion Week Spring 2011