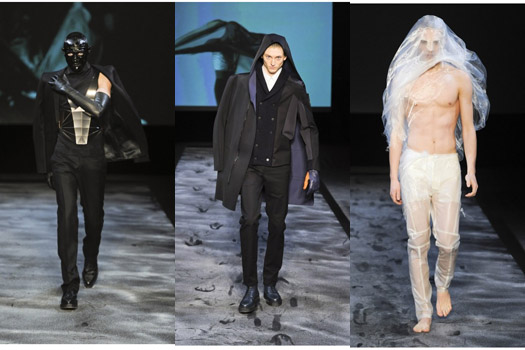 PARIS, Jan. 19, 2011/FW/ — What a way to kick of Paris Mode Masculine…The Mugler (note the new name to accompany the new creative director) Autumn/Winter show was held in the grungy Garage de Turenne, one of Paris' most-picked venues. The concrete and grime was a perfect backdrop for the gothic and edgy rebirth of the iconic house.
New Creative Director, Nicola Formichetti (à la Lady Gaga's stylist), took the brand closer to the original roots of Mugler, and sought to revive the brand.
With Gaga's (then) yet-to-be-released tracks setting the mood, Formichetti's vision came to life. With the help of new menswear design director Romain Kremer, this collection signifies a new chapter in the history of the brand.
The color palette was dark- but surprised us with some pops of highlighter orange, shades of blue, and even some ethereal whites. The silhouettes ranged from the expected slim trouser to a new, hugely wide-legged set for men.
In the background, images of the bizarre and famous "zombie boy" model Rick Genest furthered the dark and alternative motif of the show. Models walked the glitter-laden runway with lacquered hair, melted tar-esque masks and shoes that reminded us of Frankenstein.
The things we noticed most about this collection were the exposed zippers on suit pants' pockets and puffy patchwork on jackets. The collection, however dark and twisted it was, had some very wearable pieces as well. The tailored shirts and turtlenecks, the mature dark blue suits, and the jackets (ranging from cropped to floor-length) would suit any need.
They say change is a good thing, so now, we are all sitting on the edge of our seats to see what's next for the renewed house of Mugler.
[LINDSAY McCALLUM]