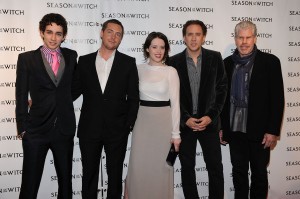 NEW YORK, Jan 5, 2011/ FW/ — Nicolas Cage, Ron Perlman, Claire Foy, Robert Sheehan, Stephen Campbell Moore, director Dominic Sena and screenwriter Bragi Schut together with celebrity guests graced the premiere of the fantasy movie "Season of the Witch" in AMC Loews Lincoln Square.
Oscar® winner Nicolas Cage (National Treasure, Ghost Rider) and Ron Perlman (Hellboy, Hellboy II, Sons of Anarchy) star in this supernatural action adventure about a heroic Crusader and his closest friend who return home after decades of fierce fighting, only to find their world destroyed by the Plague.
The church elders, convinced that a girl accused of being a witch is responsible for the devastation, command the two to transport the strange girl to a remote monastery where monks will perform an ancient ritual to rid the land of her curse.
They embark on a harrowing, action-filled journey that will test their strength and courage as they discover the girl's dark secret and find themselves battling a terrifyingly powerful force that will determine the fate of the world.