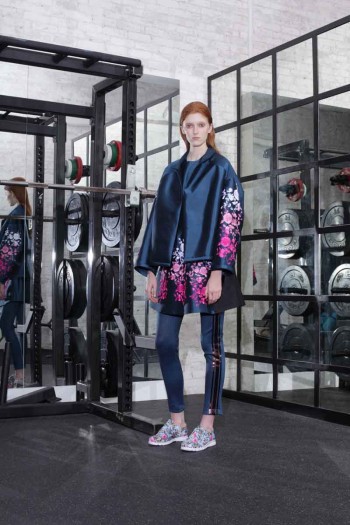 NEW YORK, Jun 14, 2014/ — With gym equipment as backdrop (the presentation was actually shot in a gym), Cynthia Rowley redefines the term "sporty" with her Resort 2015 collection that proposes floral leggings with a hidden back pouch for your keys, for starters.
For the ultimate sportive fashionista, Cynthia Rowley designed a printed rash guard piped with silver, a wet suit printed with racing stripes—for surfing, running, or SoulCycling, and then pair them with real clothes on other occasions.
It's about not forgetting your workout while you're on a cruise or escaping the dead of winter by flying to a tropical island. But, in the same token, you should also be ready to paint the town red whether its daytime or nighttime. After all, that's what vacations are for!
So, Cynthia Rowley urges you to pack a fitted dress, for instance, which can be worn over a rash guard. Or, how about a digital-print floral sweatshirt and matching leggings that can be paired with a feather skirt?
Rowley even designed little 1-pound wrist weights that looked like chunky leather bracelets. There was something of the 1970s about it all, but the high-tech ideas buffered the retro leanings.
Lots of designers are currently attempting to turn activewear into fashion. But Rowley, with her metallic racing-stripe leggings and floral sneakers, may be at the forefront.
"All the lines are blurred," Cynthia Rowley said. And if this collection was meant to help blur them even further, she's on the right path."