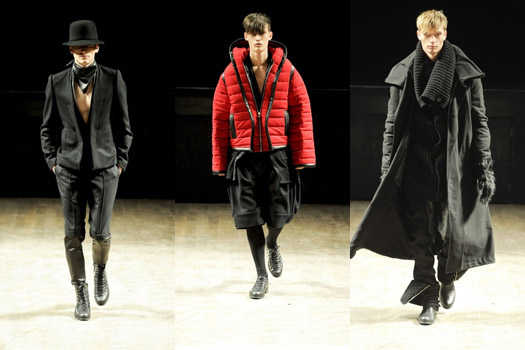 PARIS, Jan 25, 2011 / FW/ — The Paris entertainment venue, The Bataclan, was the perfect location for this edgy Fall collection from Songzio.
Following what the brand is most known for, this collection brought ambitious designs which both amplified and slimmed the male figure at the same time. The most predominant pieces showed were cropped pants and pleated, wide-cut shorts with leggings underneath.
The majority of this collection highlighted the emphasis this season on achieving a tailored yet oversized silhouette.
Plenty of cocoon coats, in wool and down-filled, knee-length shorts, leather jackets, waist accentuating belts, military boots, and riding pants were seen by Songzio this season. Also, splashes of fur on the lapel of a coat or the lining of the boots, and splashes of red kept it on trend for 2011.
Another theme I noticed was the use of hats as accessories, exposed zippers, mixed textures, and open side seams on knits to give the effect of a poncho.
The Songzio man this season is daring to explore new silhouettes in men's dressing.
[LINDSAY McCALLUM]