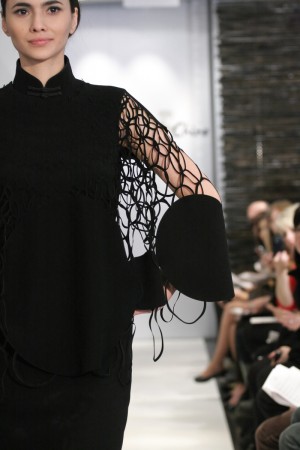 NEW YORK, Feb 12, 2011 / FW/ — Blanc de Chine showcased their men's and women's ready to wear collection at Mercedes Benz fashion week in New York. The originating Chinese luxury brand continues to showcase garments that are truly representative of the ancient influence in today's modern world of fashion. Both organic and architectural inspiration was evident.
Silhouettes of tailored straight jersey and silk pants accompanied silk pleated blouses and sequined tops. Dresses and jackets showcase three quarter curved sleeve details. Mixed through out a primarily black collection, sequin novelty pieces and red evening dresses enhance the runway. The sequin Dao vest or Dai blouse are great pieces to style into any basic ensemble. Another key novelty item was the black classic Qi Pao laser cut pancho.
The men's collection did a wonderful job presenting the tailored craftsmanship representative of a luxury brand.  A monochromatic color palate of charcoal grey deep mahogany and navy contrasted just enough to show style lines and details.  Though not all jackets featured set in sleeves, suiting and outerwear had a strong boxy shape. Straight leg pants occasional featured a single pleat option.  Mandarin collar shirts of silk and denim also featured pleated details. Outer wear for both men's and women's offered creative multiple detachable collars. The show took place at the New York flagship store on 5th avenue. Blanc de Chine continues to express modern interpretations on ancient Chinese philosophies in luxury apparel.
[ERICA REED] 
[SHAWN PUNCH PHOTOGRAPHY]