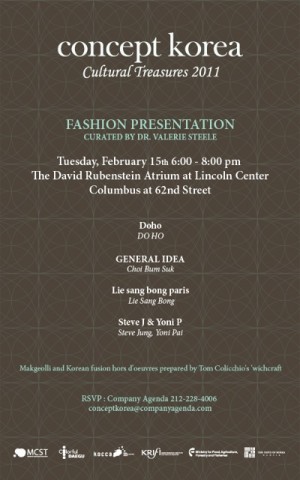 NEW YORK, Feb 9, 2011 / FW/ — Concept Korea, the government-sponsored showcase of Korean fashion design, will feature "Cultural Treasures 2011" exhibition, bringing talent and culture to New York Fashion Week.
Curated by Dr. Valerie Steele, Director/Chief Curator of The Museum at the Fashion Institute of Technology, this fashion event will take place on Tuesday, February 15th from 6:00 to 8:00pm at The David Rubenstein Atrium in Lincoln Center at Columbus and 62nd Street.
It will highlight the work of four designer collections, selected by Dr. Steele, shown on models surrounded by the sights, sounds and tastes of Korea.
Entering its third consecutive season in New York, Concept Korea was created by The Republic of Korea to introduce its design talent to an international audience, as well as to develop business relationships within the global fashion marketplace.
It is the first international platform to communicate fashion's importance within the vibrant Korean culture and burgeoning economy. In 2010, Seoul received the World Design Award by International Council of Societies of Industrial Design for its transformation into a sleek capital of technology and design. The country's gross domestic product ranks 15th in the world, with Seoul as the world's biggest producer of flat-screen televisions, hand-held devices and cell phones.
Designed by Dr. Steele, the interactive fashion presentation will feature three women's and one men's designer surrounded by customized environments that highlight their diverse styles.
She explains, "I was inspired by Korea's traditional and modern culture. The traditional culture is highly sophisticated, vital and colorful. Its modern culture is equally diverse and exciting, as can be seen in the range of fashions being produced there today, some highly refined, others young and dynamic – and almost all new to American audiences."
The Fall 2011 fashion line up will include avant-garde womenswear by Paris-based designer, Lie Sang Bong, a favorite of Lady Gaga and Beyoncé; London-based Steve J & Yoni P, who were named 2010 Korea Designer of the Year and created a capsule collection for Topshop; luxury womenswear designer Do Ho, who has 32 stores throughout Korea; and General Idea, menswear by Bum Suk Choi, a published author he recently designed for Puma.
Kim Nam Joo, fashion icon and award winning actress, has been named Concept Korea's Honorary Ambassador, and will attend the event. Additionally, Taste of Korea will add a culinary experience with Korean fusion hors d'oeuvres.
Jeong Byeong-guk, the Minister of Culture, Sports and Tourism stated "I am pleased that the international fashion industry has enthusiastically recognized the Republic of Korea as a growth market, and that editors and retailers have embraced creative forces from the region."
2011 marks the introduction of the Concept Korea Showroom expanding the initiative to wholesale buyers in New York for the trade shows, press and the general public.
Located at 72 Gansevoort St. in the fashionable Meatpacking District, the showroom will be open February 14th – 23rd, from 10am – 6pm daily. The interactive space will further the brand message, expanding the window into Korean fashion.
The Concept Korea program was created in 2010 by The Republic of Korean Ministry of Culture, Sports, Tourism, Daegu Metropolitan City Government, Korean Creative Content Agency (KOCCA) and Korea Research Institute for Fashion History (KRIFH) with support from the Council of Fashion Designers of America (CFDA.)
For more information, check out www.conceptkorea.org