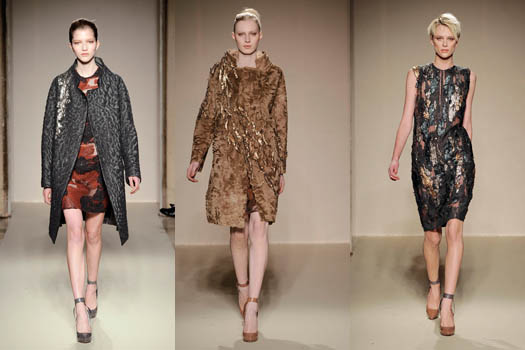 MILAN, Feb 27, 2011 / — The interactive equivalence of materials, colors and shape, intended as form of matter and color mixed together, is the basis of the new textile research of Gabriele Colangelo Fall Winter Collection 2011/12.
Inspired by Alberto Burri's polymatheric art, the collection is a true feast for the eyes. The wool coat is finely enriched by drawings graduated in thickness, and imitates breakings of Burri's Cretti, with jacquard tightening and fissures.
By following an organic movement of bicolor filaments, the wool felts. It is imprisoned by brilliant nylon, which captures the light and reflects its unusual glow, contrasting the opacity of the fabrics.
Textures come closer and merge together, then torn and lacerate and get divided to create unique and innovative combinations: agugliatura technique fuses the yarns of flat and arid felt with those of embossed brocade, and floating lurex fringes.
The whole Collection communicates vibrant colors inspired by the earth, the bluish grey of the volcanic rocks, the intense green of malachite, the essence of terracotta.
Geometry and materials are inseparable: silhouette linearity is combined with double crêpe,and alternates with the fluency of enzymed crêpe de chine.
Specialists realize accurate accessories: Cesare Paciotti designed and produced the essential and pure pumps, in brushed calfskin. Bags, mixing textile and fur, are realized by Borbonese and designed by Gabriele Colangelo.