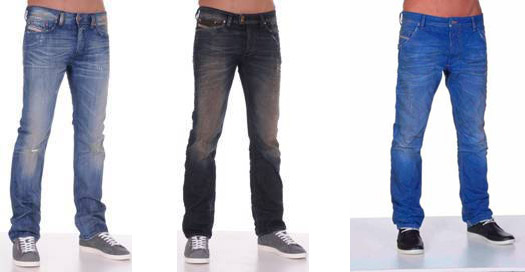 NEW YORK, Feb 26, 2011 / — Introducing a new line this spring, Diesel does it Diesel style. Instead of a press release, they sent us a poem to introduce their "Dirty New Age" line.
D I R TY NEW AGE
We've been studying for ten years and developing to
Create new shades of dirty denim for you
We combined over six types of treatments,
A bleaching process, and even a golden brush.
We applied the dirt by hand in some instances
Just to give you a Shade of Rust.
Vertical hatching and manual abrasions added to the hype
Of the 3D whiskering in our new Shades of Stripes
Red cast denim was pressed and given white spots–
From that we came up with the dope Shade of Chalk.
3D evolution and shadow treatments teamed up
With other effects to create shades of mud
Other great washes came about during this denim exploration
Including Raw Paint and Shades of Foam, Sand, and Linen
We did all of this, just to say…
Welcome to the Diesel Denim DIRTY NEW AGE!