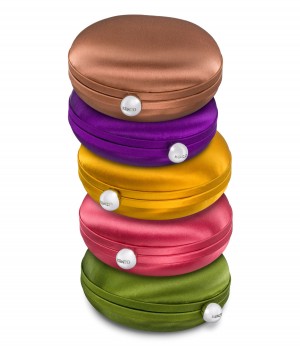 PARIS, Feb 24, 2011 / FW/ — The "macaron", the French confectionery that traces back its Parisian debut in 1533 when Catherine de Medici of Italy married King Henry II of France.
With the macaron's Italo-Franco origin, it was hard for Sardinian-born Antonio Marras, Artistic Director of Kenzo, to resist this French treat. So, he created a tote in its honor. He bedecked it with colors and designed it so that it can be carried both as a clutch and a satchel.
Aptly named KENZO MACARON, this exclusive limited edition line will be available in Kenzo boutiques worldwide beginning April 2011.
Kenzo Macaron is available in 6 colours and 2 printed versions in 100% silk satin with two interior pockets and a KENZO ball clasp
[MARI DAVIS]