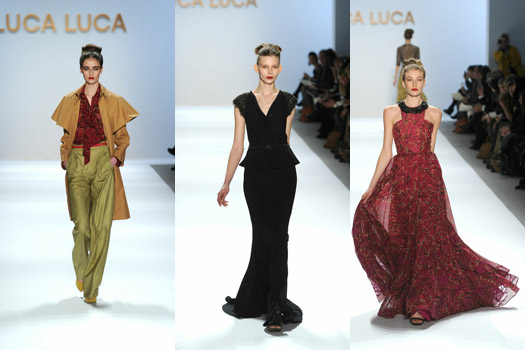 NEW YORK, Feb 16, 2011 / FW/ — As expected, Raul Melgoza sent out an elegant collection that is close to the heart of Luca Luca's 5th Avenue clientele.
Capelet trench, leather pants and sheath dresses, Raul Melgoza wants his ladies to be dressed right for every occasion.
Autumn shades of orange, olive and fuchsia, the colors are bright and optimistic, reflecting the hopefulness of 2011 that the economy is finally on its way to recovery.
And for a long time Luca Luca follower like me, it was a bonus meeting and speaking with Luca Orlandi backstage. A true gentleman, he did not want to discuss fashion while politely pointing out that it is Raul Melgoza's turn to helm the brand.
Luca Orlandi sat front row during the show and he was one of the first to give his protege a thunderous applause.
[MARI DAVIS]
Photos courtesy of Mercedes-Benz Fashion Week
New York Fashion Week Fall 2011